The blogger Fiona Ferrer Leoni talks about her passion for travel
Tremendous traveler, Iberia Plus Gold and successful businesswoman, Fiona Ferrer Leoni tells us about her participation in the Blank Ticket contest, her new book and her travel tricks.
You're working on your third novel. Tell us a bit about this project.
The truth is that I've started writing it like five times [laughter]. I actually began it in February on a flight from Madrid to New York. For me, writing is a way of getting away from it all and creating my own story; to do that, you've got to find the time, truly want to do it and be very focused. I always leverage the time I have in hotels and on long trips. I think it'll be ready for the Madrid Book Fair.
 How much do you travel on average each month? Is it for business or pleasure?
I can't recall any month in which I've not travelled, and it's a mixture of business and pleasure. Since I'm an entrepreneur, each trip has to bring me something or offer some experience I can write about, as I contribute frequently to Hola.com and La Razón. Travelling is a way to feed your mind. If you want to be a spokesperson for trends, you've got to be where they're happening.
 When you participated in the Blank Ticket contest, you told us about a trip to Havana that was very special for you. What inspired you most about the city?
 My mother had passed away just a few months earlier and – although I'd started flying again three weeks later – I decided to go on that trip to Cuba with one of my best friends at 48 hours' notice. I usually don't put a lot of planning into my trips. On that trip I fed my mind, my heart... I was able to visit a lot of art galleries and I discovered a different Havana. It was very special.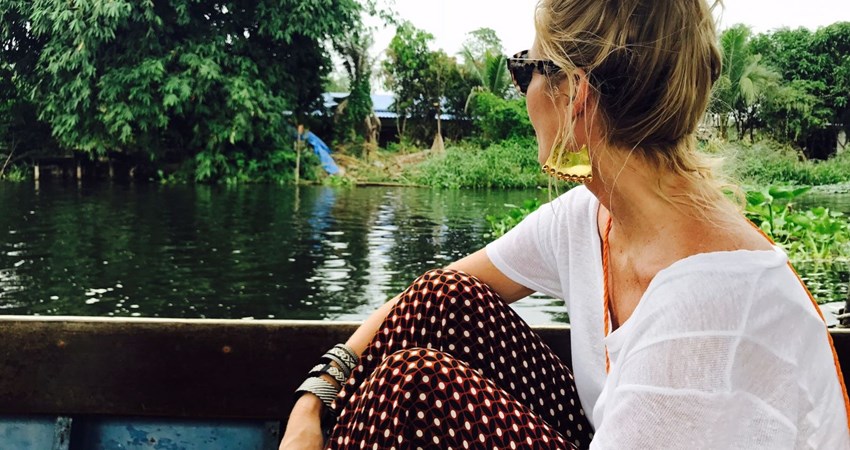 If you could choose the trip of someone else in the Blank Ticket contest, which destination would it be?
Tokyo. I think it's a great destination because it's a completely different culture and I love having different experiences.
Some of your trips have been aimed at projects and foundations you collaborate with. What destination has affected you most, and why?
A couple of years ago, my mother and I went to India for three weeks, travelling round the south of the country with the City of Hope and Joy Foundation. I was quite affected when I came back to Spain and saw the huge contrast between the two countries. And also when I travelled with Queen Sofia to Mexico and Colombia for a microcredit initiative. And it was quite an experience when the earthquake struck Haiti.
 What should a businesswoman who travels always have in her suitcase?
Black trousers and a blazer are essential because you never know when you might need to look put together. A nice pair of flats for walking might also make passing through security easier. I always try to not check in my baggage. I'm an expert in packing suitcases and can fit everything I need into a small one. I like doing it and I take my time.
As a fashion expert, what impression of Spanish fashion do you get when you travel?
I think it's good. There's buzz about it and that's important. Spanish fashion has a strong presence. Perhaps the designers should take a few more risks, surround themselves with a good team with an international vision. And they should travel.
And what about the Latin American fashion industry?
I have a great relationship with Colombia. This year I've been to Bogotá three times and Medellín once. The last time I went to the capital was to speak at Bogotá Fashion Week, where I talked about using social networks to establish an international presence. I wanted to help people who are starting out. On the plane back, I thought: "I'm making recommendations to everyone about what they should do and, in the end, the designers I believe in are going to become popular." So I used the plane's Wi-Fi to send an email and got the official Colombian go-ahead. Since then, I've been a distributor for Flor Amazona jewellery and Margarita Díaz del Castillo hats and I'm starting a new phase in which I'll be bringing Colombian fashion to Spain.
As an active Iberia Plus member, what you do usually use your Avios for, besides flying?
I've been an Iberia Plus member for many years and I try to use my Avios intelligently. For example, I prefer to pay for my ticket and then use my Avios to upgrade to Business, or on the Air Shuttle, because I tend to decide on those trips three hours in advance. And I love earning them when I shop with my American Express card.
What's your favourite section of the Iberia Plus magazine?
'Top Destinations', because it's very important that you get good advice on specific things. It's impossible to know everything about everywhere and the experiences of others can be so helpful.