We interview Yin Sun, a Chinese flight attendant
Almost a year and a half since Iberia began expanding to Asia with the Madrid-Shanghai route, we interview someone who knows the route best – Yin Sun, one of the company's Chinese flight attendants.
Yin Sun, where are you from and how long have you been in Spain?
I'm from Shanghai and I moved to Spain when I was 15 because my parents had already been living here since the 1980s. I started flying with Iberia last year on the Madrid-Shanghai route. I love Shanghai, it's a very attractive destination and I see my friends and family every time I go.
How many flight attendants fly the Madrid-Shanghai route?
There are eight of us – three are Chinese and five are Spaniards. Most of the passengers are Chinese (I'd say from 80-85 per cent) and the rest are Spanish, French and other nationalities.
What are the Chinese travelers like and what is it about Spain that they're most interested in?
They love shopping in Madrid and the architecture of Barcelona. Travelers I've talked to tell me they spend about three days on average shopping in Madrid and then go to Barcelona for sightseeing (they love the Sagrada Família and La Pedrera, for example) before returning to China.
There are films in Mandarin on the Madrid-Shanghai flights and Ronda is published in Mandarin, too. What do Chinese travelers appreciate most about their in-flight experience?
They're very grateful that there are Chinese cabin crew. Because of the language barrier – and also due to customs or traditions – they prefer to turn to someone who is also Chinese to make a request or mention a problem. And ever since we've included a leaflet explaining what Chinese films can be seen and how to use the in-flight entertainment system, they're even more pleased with Iberia.
Iberia also offers a menu adapted to the tastes of Chinese travelers. What's it like?
There are a few different menus. They're always based on rice, then we add beef in oyster sauce, ginger chicken with vegetables, and so on. We've also got chopsticks and soy sauce on board, so if customers want some, all they've got to do is ask.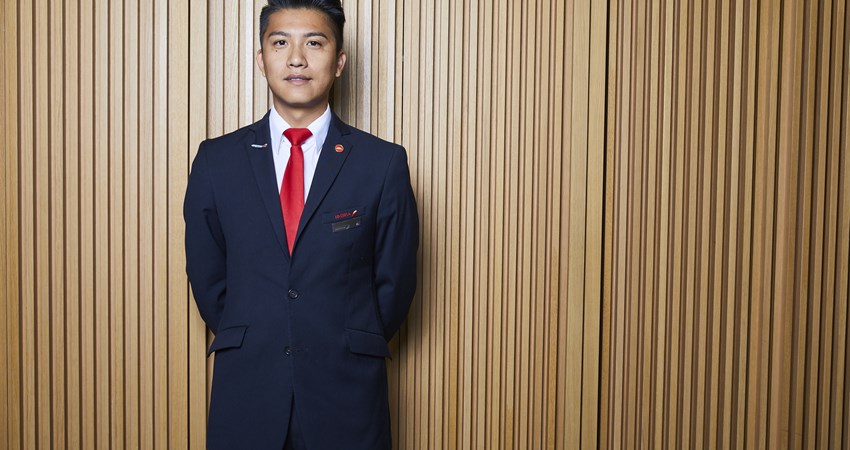 Presumably, on the flight back home, many Chinese bring mementos of Spain with them. What keepsakes do the Chinese like to take back home?
In general, these are high-net-worth travellers who spend a great deal of money when shopping. We see many bags from luxury brands. Sometimes they buy so much that it won't fit into the overhead compartment! They also tend to buy a lot of Spanish products in-flight, both coming and going. The best-sellers are gastronomic products – they love organic olive oil and the set of cans of paprika in the catalogue.
Between Shanghai and Madrid, the route flies over areas  such as Mongolia, Siberia and the Alps. Of the views from overhead, what has impressed you most?
The Gobi Desert (between northern China and southern Mongolia) is spectacular. There are usually no clouds and you can see it perfect from the plane. The passengers always take photos.
Besides Iberia's flights, what do you think links Spain and China most?
I've just been with some Chinese friends in Seville and I took them to see the bullring. Although it may sound like a cliché, the Chinese are fascinated by flamenco and the music and dance style known as sevillanas. Without a doubt, the two countries are linked by an interest in culture.