Summer news including our newest Singular star
Discover our new routes for summer, improved entertainment and even a whole new travel class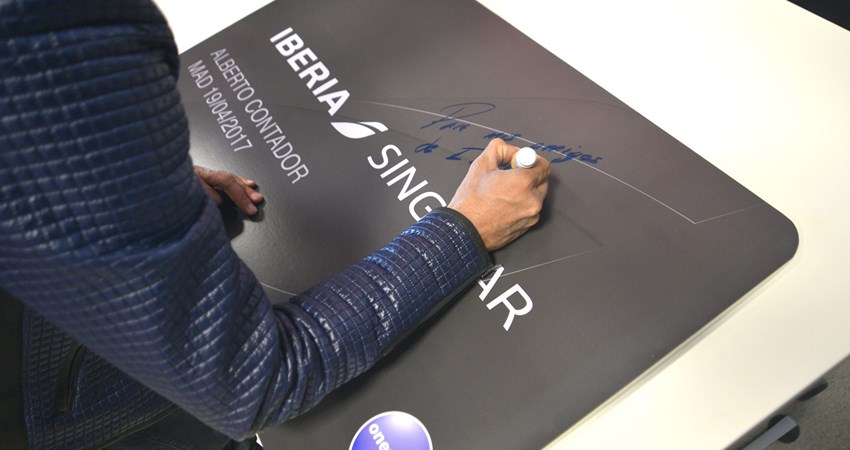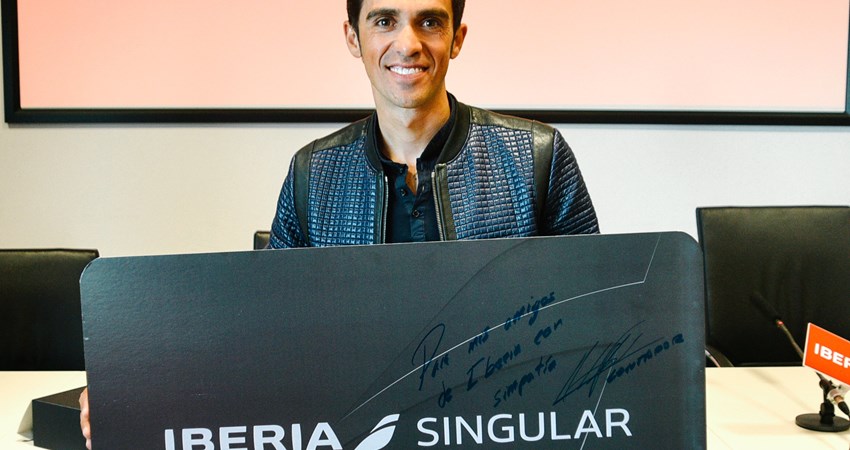 Alberto Contador joins Iberia's Singular team
Spanish cycling champion Alberto Contador has been granted the Iberia Singular card, an exclusive card by which the airline recognises the personal and professional career of personalities from the worlds of culture, sport and more, representing the values ​​of the Iberia brand.
The Iberia Singular card gives owners special concessions such as VIP parking in the Madrid and Barcelona airports, more baggage allowance, check-in at Business counters, fast-track security controls, access to more than 650 VIP lounges in the world and priority boarding. Cardholders can also enjoy a number of benefits when traveling with other oneworld alliance carriers.
In the past, the Singular card has also been given to Pau Gasol, Plácido Domingo, Mario Vargas Llosa, Miguel López Alegria, Pedro Duque, Javier Fernandez, Ona Carbonell and some of the medalists of the recent Rio Games such as Carolina Marín, Mireia Belmonte, Ruth Beitia, Joel González, Saúl Craviotto and Cristian Toro.
The heat is on
Making travel plans for summer? Then make sure you're up to date with Iberia's newest destinations and routes. We launched Iberia flights to Basel, Switzerland, on 26 March and, from June, Iberia Express will be operating flights to Cardiff, UK, and Cagliari, Sardinia. This summer we're also restarting flights to the Croatian destinations of Dubrovnik, Zagreb and Split, as well as our flights to Catania, St Petersburg, Budapest, Puerto Rico, Cork, Edinburgh, Reykjavik, Oslo and Santorini. As for long-haul travel, the frequency of our flights to Quito, Medellín, Buenos Aires and Mexico City will also increase, making it even easier to get away and enjoy some sunshine.
More fun on board
Customers travelling in Iberia's Airbus A319 sub-fleet – which usually flies to Moscow, Stockholm, Tel Aviv and Malabo, along with St Petersburg in the summer – can enjoy a new in-flight entertainment model, Gogo Entertainment. Install Gogo Entertainment app, then connect via the 'Iberia_Entertainment' WiFi, to view fims, TV series and more. It's accessible to all, and free for Business travellers.
Class act
Iberia is launching a new travel class, Premium Economy, which will be gradually incorporated into our A340-600 and A330-300 aircraft. Premium Economy offers exclusive seats that are wider and recline further than in Economy, plus noise-cancelling earphones, entertainment on HD screens that are 33 per cent larger than those in Economy, and more. Customers can also enjoy priority boarding, two checked suitcases and other advantages. Premium Economy is on sale now, for select flights starting from May 2017. By summer 2018, it will be available across the network.