San Marcos: Quito's cultural heart
When the working day ends, most the streets of Quito's Old Town quickly empty. But there's plenty of local life in the San Marcos neighbourhood, a kind of time capsule within the city. Here, people know their neighbours' names and shop at independent local businesses. It's a varied, colourful area where small food stores, chemists and shoe shops sit alongside boutique hotels, galleries and restaurants.
The religious experience
The intersection of Calle Junín and Calle Montúfar is the gateway to San Marcos. Its northeastern corner is dominated by the solid white wall of Museo Monacal de Santa Catalina de Siena. This place is home to exquisite paintings and sculptures by masters of the Quito School, including Legarda and Samaniego, and one very unusual relic. According to the faithful, praying while seated on the 'miracle bench' – a 300-year-old wooden artefact – can cure diseases and fertility problems.
A piece of New Orleans
On the same block as the Santa Catalina, you'll find the three extremely narrow floors of Café Dios No Muere. Its name echoes the final words ("God never dies") of Ecuador's former President Garcia Moreno, whose remains were hidden here after his 1875 murder. The interior is packed with memorabilia, from bullfighting posters (a centuries-old Ecuadorian tradition) to giant Cinzano bottles. The menu includes some Louisiana specialities – the owner lived in New Orleans before moving to Quito – and the Po'Boys are to die for.
Art and heroism
According the local paper El Telégrafo, only two of the district's houses still have their colonial features virtually intact. One of them is now the Museo de Acuarela y Dibujo Muñoz Mariño, created in honour of the Riobamba-born watercolourist of the same name. The exhibition spaces are arranged around a bright courtyard and also host art workshops and film festivals. The Museo Manuela Saenz, dedicated to the main heroine of Ecuador's independence from Spain, is another intriguing site in the neighbourhood, and belongs to the same network as this museum. It's located opposite Santa Catalina (Junín OE1-13).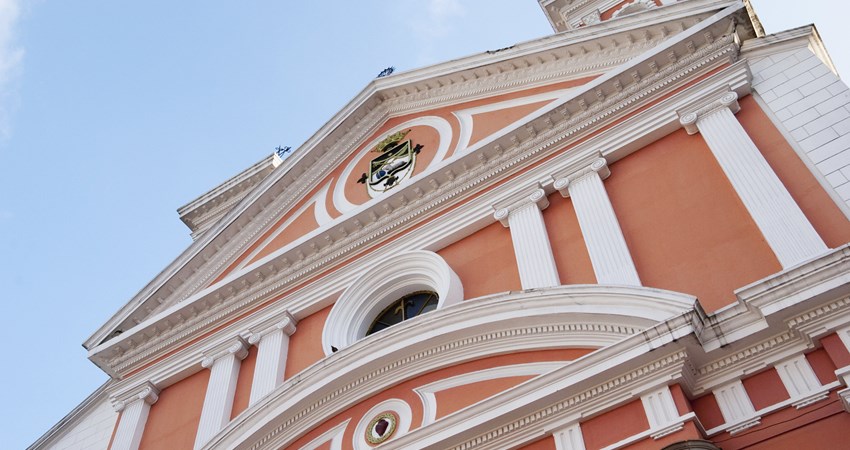 Fine handicrafts
Located opposite San Marcos Church and Square, Noble Wood is a well-stocked workshop for intarsia (a kind of wood inlaying, similar to marquetry). Its owner, José Barrera, is a never-ending source of fun facts about the neighbourhood. For example, he showed us that house number OE1-33 on Calle Junín has what's sure to be one of the world's narrowest façades for a private property, at just 1.5m wide.
Image credit: AdobeStock