The digital transformation of Iberia, by those making it happen
Iberia is immersed in a profound transformation that puts the focus entirely on our customers at all times. We interviewed Gabriel Perdiguero de la Torre, Director of Customers and Business Transformation, who is helping to enhance the experiences of Iberia's customers and to bring about a comprehensive transformation of the company.
Could you describe the digital transformation Iberia is currently immersed in?

At Iberia, we believe the key is in the focus and the capacity to deliver. If our digitisation does not improve the lives of our customers, we haven't achieved our objectives. What we propose is a transformation that combines actions related to the shift in culture – the digitisation of the relationship with our customers into being part of their entire trips, simplifying their lives – and exploring new businesses and innovative ecosystems, such as the Hangar 51 programme of collaboration with startups.
What does that programme consist of?
Coordinated by IAG, Hangar 51 is not purely a startup accelerator or incubator project. It has a very practical approach aimed at building a product in collaboration with the startup, which is to be delivered within ten weeks. This enables Iberia to implement streamlined methodologies to generate a culture of innovation.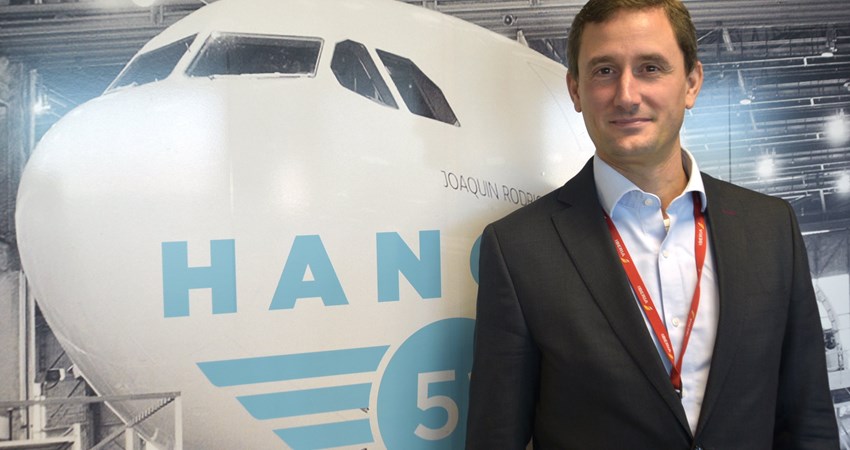 Why is now the perfect time to carry out this digital transformation?

On the one hand, it's because of the market. In many of the traditional industries there are new actors that are challenging those that are established, and they are here to stay.
And on the other hand, technology. The industry is going to experience some years of turmoil. Innovation will enable it to make a quantum leap in carrying out operations and in the experiences of our customers, whose perception – we know – is directly related to the worst of their experiences on their trips.

What are some upcoming projects and what impact will they have on the experiences of Iberia's customers?
We aspire to design simple services that add value before, during and after the trip, without forgetting that 'during' is the foundation of our business. That's the challenge, to redesign and use technology to make things better, make life easier and customise services. This means that, when something happens, our customers have real-time access to the information.

What examples of projects can you share with us?

We are working on making our mobile app into something much more comprehensive by including more information in real time and more self-service, while keeping additional ways to get support, such as the call centre. The way we communicate and interact with our customers will be key, with new concepts such as travel assistants or chatbots which will make it possible to provide information and to carry out certain activities, such as obtaining boarding passes or information about your Iberia Plus Avios.
Does such a broad change affect all the departments and the corporate culture?

During transformation, almost all companies tend to think about pure innovation and to look outside the company. Some complement it with a change in culture, to lay the groundwork for innovation and to truly leverage the value that it can generate. In our case, we're balancing these two levers. With the talent and the sense of belonging that Iberia's employees have, when something is internalised, it works like a team and is hard to stop.
What is expected of the digital transformation inside the company?

Digitisation has to make the work of Iberia's professionals easier, improve their experience as we do with our customers, and measure the Net Promoter Score (NPS) of the employees at the customer level, which we also do so for our customers. This is a cross-cutting change, and that's one of the biggest challenges. At Iberia, 100 per cent of the organisation is involved.