In time for the big bike races, explore the Community of Madrid on two wheels
The Vuelta a España takes place from 25 August to 16 September. This championship has been held since 1935 and is now an indispensable part of the world of cycling; it's also given the world cycling legends such as Pedro Delgado and Alberto Contador. Others – Bahamontes and Induráin – didn't succeed in winning, but they did show off their skills during the race.
The Vuelta crosses Spain from north to south. From the starting line in Málaga, it then passes through places Roquestas de Mar, Linares, Salamanca, Santillana del Mar and Andorra, ending in Madrid. In honour of the upcoming celebration of this event, here are our recommendations for the capital's best bike routes.
Madrid's secrets
Beyond the capital, fields, mountain ranges, meadows, paths, country houses, greenways and historical monuments make the ideal stage for bike routes.
Madrid holds many secrets. It has a national park, three regional parks, two biosphere reserves and almost 40 per cent of its territory is included in the Natura 2000 Network. What's more, it also boasts a rich cultural heritage, delicious restaurants and wineries and charming villages.
The best experiences surrounded by nature, visits to different districts, World Heritage cities and a rich culinary culture, all within a day by bike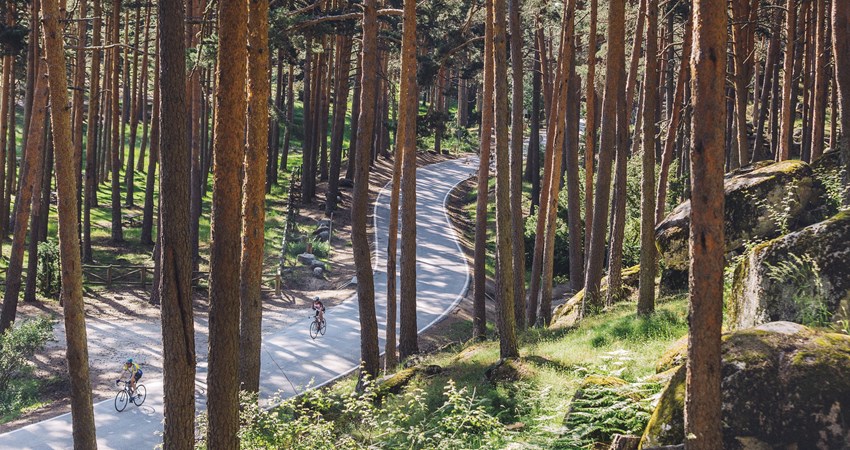 Ciclamadrid: more than 1,200 km criss-crossing the Community of Madrid
Ciclamadrid brings many points of interest with a circular route and radial paths totalling 471km. Divided into 12 stages, it crosses the region and links the three UNESCO World Heritage Sites in Madrid: Alcalá de Henares, Aranjuez and the Monastery of El Escorial; six Madrid villas, 400 cultural interest sites, 300 museums, an extensive network of theatres and a wide-ranging programme of cultural events and festivals.
With this initiative from the Community of Madrid's Tourist Board, bicycling has gained fans who wish to explore the cultural and even culinary heritage of the capital's outskirts.
And do remember that, if it gets late, you can always come back by train.
Bikepacking is hot right now
There are sites for all kinds of cyclists on Madrid's paths. In places such as the San Juan reservoir, we find examples from the most classic bicycling tourism to the trendy bikepacking. This method does away with frame packs and the luggage is distributed around the bike in bags to make it as light as possible.
A must: a little adventure going round the San Juan reservoir, with magnificent trails, forests and bathing areas so you can have a dip.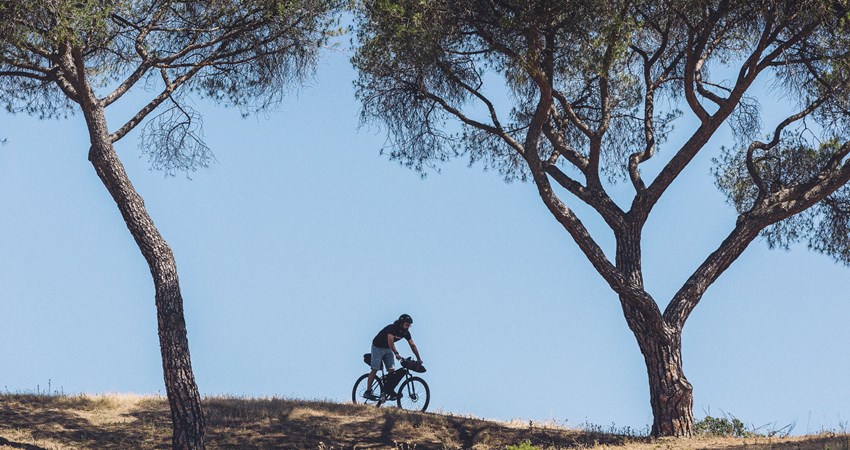 Other routes in Madrid
On The Camino de Santiago of Madrid, the number of pilgrims grows year by year on this little-known, lonely and well-signposted road full of attractions. Comprising 13 stages, of which the first four are in Madrid, it crosses the Guadarrama mountain range through Fuenfría Pass, 1,796 metres above sea level. The route links the capital with the French Way in Sahagún, passing through Segovia, Valladolid and León through the Tierra de Pinares, Montes Torozos and Tierra de Campos.