Milinko Pantić speaks about his experience after his hair transplant with Microfue
The former Atletico de Madrid player shared his impressions before getting his second transplant in Turkey under the direction of Dr Acar.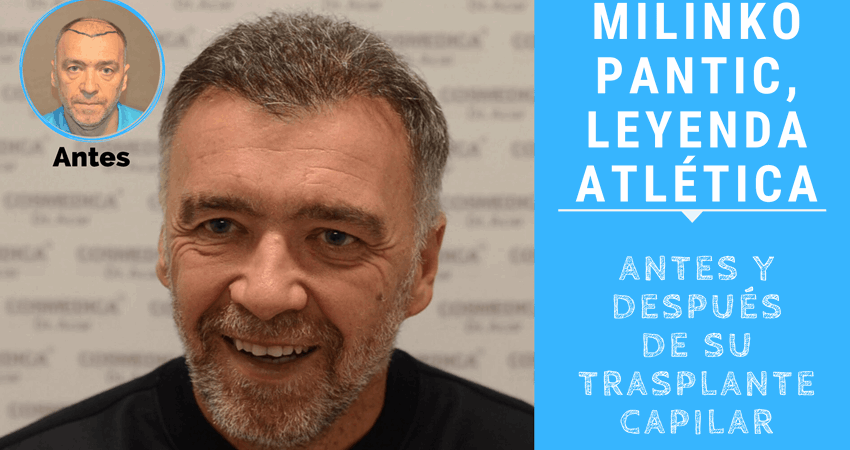 Since late 2011, when Microfue opened its doors for the first time, the centre has become a reference in hair transplant surgery because of its ability to offer the latest innovations and methods, and for its excellent conditions. Some 50,000 patients from across the globe have entrusted their hair health to Dr Acar, one of the most prestigious hair transplant specialists and an honorary member of ISHRS (International Society of Hair Restoration Surgery).

The best guarantee of medical excellence by Dr Acar's team is the thousands of successful cases accumulated over his long career, and the high level of satisfaction shown by his patients. They all agree that their hair transplant surgery was a turning point in their lives, as they were able not only to regain a younger and more natural image, but also something much more important: self-esteem.

In addition to the Microfue Clinic's medical excellence, the centre stands out because of the highly competitive prices of its surgeries, much lower than those in Spain and in the rest of Europe. For instance, the price of the basic package is €1,990 – a third of a treatment with the same characteristics in Europe, with the added value of travelling to Istanbul, one of the planet's most beautiful cities.
New technique
One of the most advanced micrograft methods developed by Dr. Acar is the so-called FUE, a minimally invasive technique characterised by its great precision and the multiple benefits it offers to patients in terms of both the surgery procedure itself and the postoperative and recovery processes. The FUE (which stands for "Follicular Unit Extraction") method consists of extracting follicular units one by one from the patient's donation sites – usually the nape of the neck and the sides of the head – and then implanting them in the areas affected by baldness.

The result is spectacular, as the implanted hair as natural as the ones already existing. This technique has practically replaced the FUSS (strip) technique in which a strip of skin is removed from the donation site and implanted in the reception site. About 95% of patients treated with FUE obtain satisfactory results, and the 5% that suffer some type of rejection usually do so because they did not follow the postoperative recommendations correctly.
Testimony
What better way to understand this experience than to hear it firsthand through the testimony of the coach (currently in the Chinese League) and former Atletico de Madrid player Milinko Pantic, who has twice put himself into Dr. Acar for a hair transplant. In this interview, done just before the second surgery, the former player explains the entire process of a surgery that has changed his life:

Milinko, how did the first surgery go?
Very well. Perfect, to be honest. The master – Dr Acar, of course – treated me very well from the very beginning.
And the results?
Very good. I'm telling you, honestly, that I've even had friends walk right by me without a word because they didn't recognise me. People from the Atletico de Madrid asking, "Where's Milinko", and someone had to point me out. I'm very happy and can't wait to get the job done.
What awaits you the second time?
The master would know that. I'm very happy to be back here with my friends. Because here, besides having a doctor, there are good people who are kind and treat you very nicely. There are deals in Spain – they do the second operation – but I'm loyal to my doctor and I wanted to come back here. He's treated me very well and, especially, with a lot of heart, and I appreciate that. Thanks to Microfue for giving me this chance to be with all of you. For my part, I'll do a lot to promote it, and I'm already doing that, because I'm a person who doesn't hide this. I come from doing the transplant here and everyone knows it.
Is it natural?
Yes, the more natural Is, the better. That's how I see it. Why hide something?
Do you have any advice that might encourage future patients?
The ones who come here do so because there's a big taboo and a lot of fear in Spain, but Turkey is a country that I love. I'm a football coach and someday I'd like to coach here, learn Turkish and live here. It's a very diverse country. I really like it.