The creators of "Stopover Hola Madrid" tell us all about it
Veronica Sánchez is a ground product experience manager at Iberia and has been leading the development of a product that multiplies the possibilities of your trip: "Stopover Hola Madrid", an opportunity for Iberia customers with layovers in Spain's capital to add a new destination to their trip.
What is Stopover Hola Madrid?
It's a product created with the aim of offering a new experience to our customers: turning their layovers in Madrid into a destination. "Stopover Hola Madrid" allows customers to spend one to six nights in Spain's capital and enjoy exclusive discounts on accommodation (40% at Meliá Madrid Hotels), transport (a free two-day public transport card), restaurants, shopping (personal shopper and other advantages at El Corte Inglés) cultural activities (20% discount at the Thyssen Bornemisza National Museum) and leisure activities (tastings at La Cervecista de Mahou San Miguel).
What led to the creation of the product?
We saw that there was a need in the market. Our hub offers a number of connection options. Together with the language, this allows us to position ourselves as "Europe's Gateway" for Latin America. We realised that we actually had everything we needed to create the product: there was a demand, we at Iberia had the expertise, equipment and tools to offer a nice experience to our customers and we had a hub with extraordinary connections. What's more, we decided to team up with several brands to offer our customers an unforgettable stay in Madrid, creating an attractively priced and different opportunity, compared to our competitors.
How can you sign up for it, and what are the advantages?
It's a digital product. You can sign up on the website in a space dedicated to Stopover and also at travel agencies. Many customers in Latin American countries – where we expect demand to be greatest – buy indirectly through travel agencies.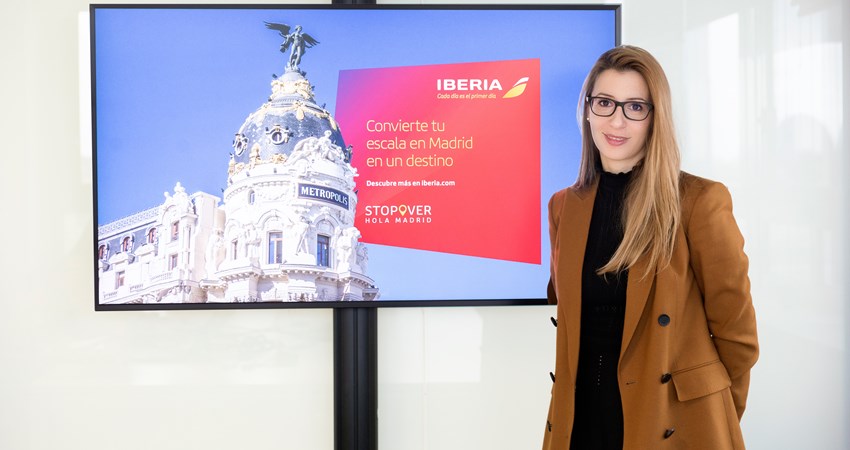 The offering includes some very interesting collaborations. Which activities do you think will be the most popular?
Public transport, because it is free for the customer for two days and can be used to transfer to the hotel and move around the city, along with the offers for accommodation and discounts on various activities and excursions by Alsa to explore the city and its surroundings, which are very attractive options. 
How is it being received? 
We're very pleased; we've launched the product gradually in different markets and already have more than 1,000 Stopover Hola Madrid customers. The product has been available in all markets since November, and we hope that the number of customers will continue to grow. We've learned a lot in these early months, seeing what offerings and collaborators our customers find most interesting, so we can adapt ourselves to their rhythms and needs. We'll have different profiles and we want to have options for all tastes. 
If you lived abroad and were flying to Madrid, what would be your ideal Stopover Hola Madrid? 
In Madrid, you can enjoy cultural tours in the morning, then go shopping – stopping halfway to enjoy the gastronomy (very highly appreciated by tourists) and then continue with visits to other traditional places, even exploring nearby cities if you stay for several days. I think the best thing would be to make a plan based on however many days you're going to be in Madrid. In fact, we're preparing a "Welcome Pack" with everything visitors can see in Madrid (both inside and outside the programme) based on the days the layover will last, so that our customers can customise their visits. 
You live here, so what do you think that no visitor stopping in the city should miss? 
Madrid boasts legendary places such as El Retiro and the Royal Palace, which – in my view – no one should miss. They should also enjoy our gastronomy, try out the different dishes, small plates, sweets and even the beers and cocktails that are traditional in Madrid.
As for areas that are nice for a stroll, I really enjoy visiting the historical area of the Madrid de los Austrias, the Plaza Mayor and some of the traditional businesses that help you know a bit more about our culture. And I would certainly encourage them to enjoy Madrid's nightlife.
There are also emblematic spots very close by, such as Aranjuez, Alcalá de Henares and Toledo, outside the Community of Madrid. I'd also recommend spending a day in Madrid's mountain range, perfect for sport enthusiasts, and exploring traditional hamlets such as Patones or Chinchón.
"I think what this product does is make you want to come back again."
Images by Hortensia García