We fly with Nella Rojas
Nella Rojas – the Venezuelan singer and contributor to Iberia's theme song, Volando – shares the details of the Volando Tour and other upcoming plans.
You've sung many genres of music during your career; what places would you say are part of your musical identity?
The genre I'm working in now... I don't know which one it is. I wasn't raised with flamenco; I listened to pop. When I moved to Boston, I began to delve a lot more into my Venezuelan music, to sing the merengue from there and – little by little – to explore contemporary Andalusian tradition: Sandra Carrasco, Paco de Lucía, Camarón... And then I suddenly met Javier Limón and everything began to make sense.
You've managed to make a place for yourself with a formula that is risky in the current musical context. What has that process been like?
Today, the over-production in music makes a singer's 'nakedness', their honesty, almost a thing of the past. It's one of the things that made me fall in love with flamenco, with the singers performing with such raw emotion. It's always been my intention for my voice – whether it gets radio play or not – to speak with quality, with intelligence. That's exactly what I want to do with my music: create that feeling of remembering moments through the songs.
Do you think the new channels for listening to music make it easier to become known at the global level?
Yes, of course, with all these technology platforms it's much easier for your music to reach everywhere, which is also a two-edged sword. Albums don't sell anymore; now, it's all done through concerts. However, I grew up with this generation and, thanks to this reality, my music has reached my country.
Is music able to cross any border?
Absolutely. For me, music is able to cross any language, any colour, any religion. And that's been completely proven.
You're the voice behind Volando, which has become an anthem for Iberia and something of a hallmark of identity for the people who make up the company. What does flying mean to you?
Javier Limón – the producer of the song – lets his music reach me and I interpret them as I feel them. Then I let them travel around the world, and people interpret them based on their own experiences. You can start out with an idea, but the best thing is to let your songs fly. Others do their own interpretations, take them to their own worlds and their own histories. For me, that's flying. This song was written for the A350, but the Venezuelans all thought it was for them.
When did you realise how far it had gone?
When we did it and I saw we were going to Toulouse to sing it for the plane, it all sounded rather cold. However, singing it to Iberia's entire team there and seeing their reactions and learning about their histories really touched my heart.
What will the Volando Tour consist of? What is it like to work with Javier Limón?
The idea would be to go to Iberia's destinations, such as Boston, Mexico, Havana, New York, Madrid... and for Volando to reach local musicians. We're going to tweak it to fit the country we're in. It will be free to fly through others.
What singer would you like to share it with?
In Havana, I'd like to get to meet and share this song with Muñequitos de Matanzas. It would be incredible.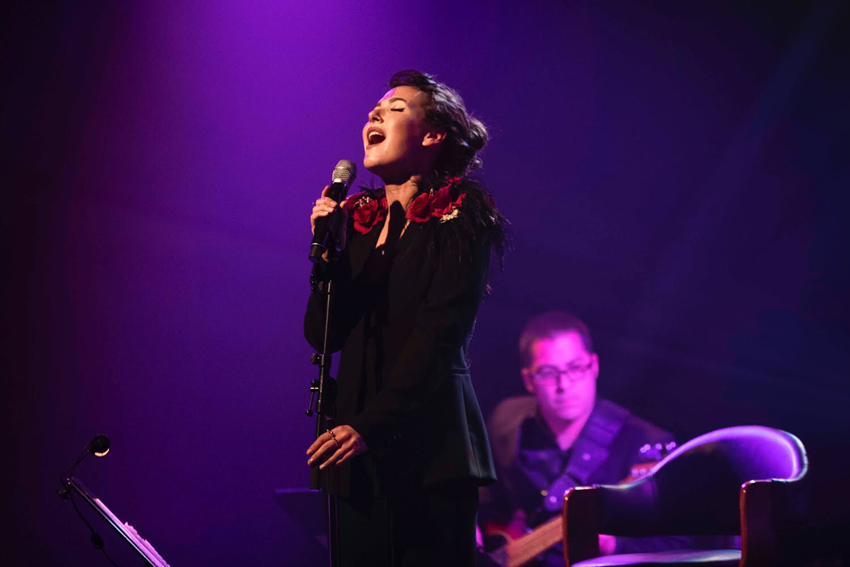 When is your album coming out?
April. The idea is to take it everywhere. I love it that Volando is going places at the same time I'm recording. It's very nice to know Iberia supports emerging artists. The experience with all the people we've shared this process with has been very nice and I'm delighted to now be able to make them part of it and also that I'm doing the Volando Tour.
What kind of luggage does a musician carry?
I've always got a book – whatever I'm reading at the time – and a notebook. The airplane and the clouds are good inspiration for a song or story.
Do you bring back more than you take with you?
Always. For me, there's no greater pleasure in life than travelling and discovering cultures, foods and music. I feel so very fortunate because my career allows me to share and exchange things with many different cultures. It's a responsibility also, as an ambassador for where I come from. I want to represent the best of my country.
#talentoabordo
Cover image by Samantha López