Springtime with new developments at Iberia
Iberia is joining the digital age and promoting local talent while continuing with its commitment to children's health and children who are suffering.
The voice is a winner at Iberia
Voice systems are currently a big trend, and not just among young people. So Iberia has developed apps and actions to respond vocally to our customers' needs. The airline can be reached through iberia.com's chatbot and the app (available on iOS and Android), Alexa, Google Home and Google Assistant. It's just one more example of the many digital transformation initiatives Iberia is involved in to improve the experience of its customers and employees and the company's efficiency and sustainability.
Virtual reality comes to airplanes
Iberia and Inflight VR – a company specialised in applying virtual reality to the tourist industry – have joined forces to incorporate this technology into Iberia's flights.
After a testing period, the virtual-reality glasses will be available on the airline's two daily flights to New York, operated with A350-900 airplanes, and the Madrid-Tel Aviv route, which flies every day with an A330-200.
The second-generation Pico VR glasses can be rented as part of the on-board duty-free offering.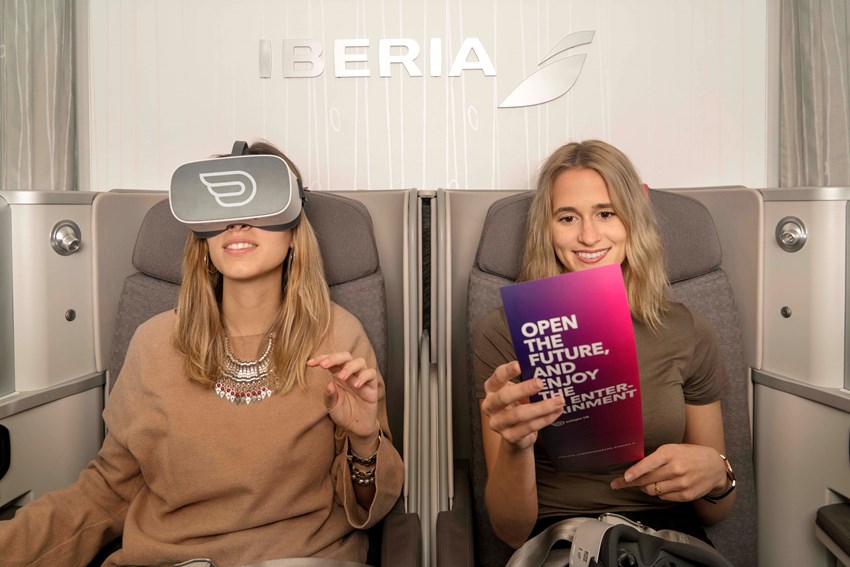 The Prado Museum touches the clouds
The #Talentoabordo project was created as part of the airline's commitment to culture and art and to promoting Spanish talent in all its manifestations. Among other initiatives, March will see the maiden flight of the new A350, named Museo del Prado in honour of the museum. This airplane will help to promote the best of Spanish culture in all the countries Iberia flies to.
Applause for a good cause
Last 15 February, for International Childhood Cancer Day Iberia joined the tribute to the Juegaterapia Foundation for all the children fighting this disease every day. The company's customers and employees gave a thunderous applause so that all the world's children could hear:
Free digital press, newspapers and magazines in more than 60 languages during your trip
The new platform offered by Iberia, Press Reader, allows free downloads of 7,000 national and international publications to read at any time of the trip and from any mobile phone, tablet or laptop.
The process is very simple: you only have to access the Iberia app 24 hours before the flight's departure and enter your surname and booking reference in the My Trips section. Here you will find a link to the PressReader app, where you can download as many publications as you wish, as long as it is done before the flight so you can read them during the trip. The access time is from 24 hours to 10 days, depending on the type of cabin in which you fly and your level of Iberia Plus card.