Just as the World Cup is about to begin, we talk with Celia Jiménez of Spain's "La Roja" women's team
We imagine the future of women's football with this Jaén-born rocket scientist who plays wing-back for the Seattle Reign and the Spanish national team.
How do you deal with playing in the National Women's Soccer League, considered the world's best women's football league?
With enthusiasm and responsibility. I had dreamed of playing in the NWSL ever since I arrived in the US, and I want to meet the expectations people have for me and to give the best of myself to the team. This is where the best female footballers in the world play and the opportunity to compete and train with them is an enormous honour.           
Besides talent, what is needed to win?
Discipline and sacrifice, I think. Taking the decision to leave my family behind and travel to a country with a language I didn't know was a huge challenge for me. Through hard work and the many sacrifices I've made, I've managed to make what I had dreamed so much about happen.
Will you play in the FIFA Women's World Cup in France this summer?
It's what I want and I'm working with that goal in mind every day. Ever since I competed in the past World Cup game, I've never stopped striving to learn and grow as a footballer. The one in France is the "target" for 2019, and I hope that the coach and coaching staff will include me.
You are set to play your second World Cup at the age of 24.
It's a sign that things are being done well, that I'm headed in the right direction and working as I should. I find it really exciting, because I think the team is at a very good place and that we can play a big role this year.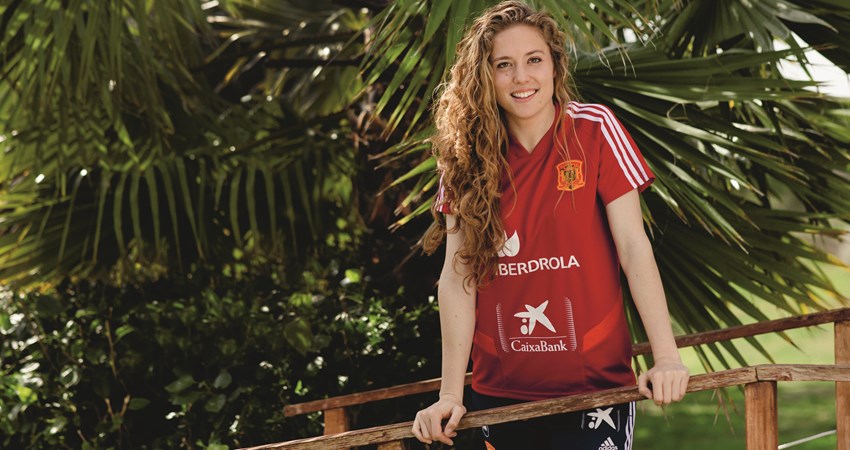 What's the best thing that sport has given you? 
I think that I can apply the values I've learned in football to my life, to my day-to-day activities. They help me to deal with any situation. Discipline, sacrifice and a "never-give-up" attitude are values, thoughts or skills you can use to deal with any challenge.
How did you combine studies and football practice?
In the US, I was able to do it in a fairly structured way. The team and coaching staff supported me studying. They allowed me a certain flexibility when travelling for matches and, at the same time, the university's professors always helped me out if a test date needed to be changed, or if I had to speak with them at some time other than the scheduled class. I think that the US educational system allows its students to compete and its athletes to earn good academic results.
Where do you see yourself in the future?
Having earned a degree will allow me to have a certain stability. In the near future, I see playing for many years, and I'm excited about being able to devote all my energy to the sport. But, in terms of the distant future, I think my life will be related to the aerospace industry and to engineering, creating new designs or implementing innovative projects. The values of leadership and teamwork this sport has taught me will also serve me very well in my profession.
In your case, developing these two facets has been a choice, but in women's sport it tends to be almost compulsory. Are things changing in this regard?
In recent years, we've been very successful with football and the team have been doing things very well in lower divisions; the last won a great deal of success in the football case, and the selection is doing things very well from lower categories: the last U21 team were world champions, for instance. This is encouraging change. There is still a lot of road ahead and many things to change, but I think women's football in Spain is taking a decisive step. I'm very eager to see how far we can get in the coming year.
What role do women athletes have in promoting this change? 
I think the best message that can be sent is the performance. Although we've got significantly fewer financial resources in terms of pitches or from institutions, we continue to have very good results and to show that there must be support for women's football and, in particular, more financial commitment and visibility in the media.
What would you say to the young women in the lower leagues?
That they should be fighting for this common dream we are all fighting for, and that I'm sure we're going to achieve the equality we all want so much.
Images: Matt & Lena Photography 
#talentoabordo