Iberia finishes spring with lots of good news
Terminal T4, the Madrid-Lisbon route, Amelia Earhart and the Integra foundation are the stars this month at Iberia
Amelia Earhart flies once again
In tribute to the first female aviator to cross the Atlantic, Iberia has given her name to the new A320neo, the fleet's most technologically advanced, efficient and silent aircraft.
This homage to a genuine pioneer in aviation who was courageous, enterprising and followed her dream with unbounded enthusiasm is also a tribute to all the women working at Iberia, because Earhart made history and they continue to do so, day in and day out. One hundred of these women from all company groups attended the A320neo Amelia Earhart naming ceremony, tossing the same cap she wore into the air.
Check the video here.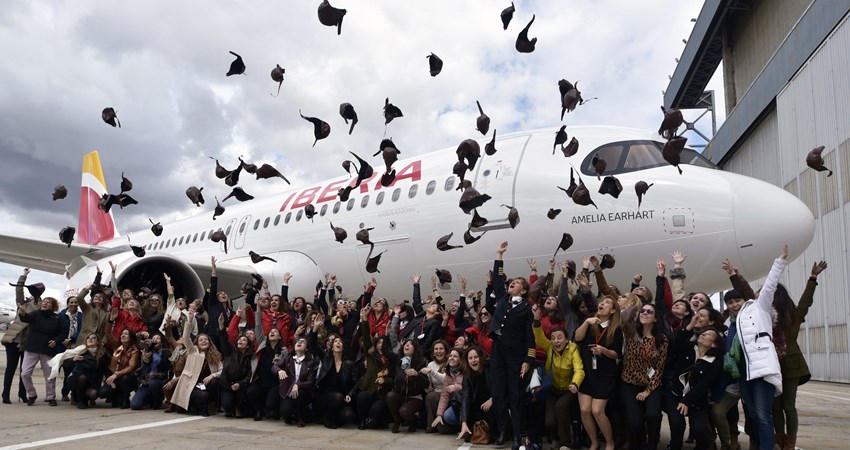 Madrid and Lisbon, 80 years of flying
On 1 May 1939, one of the airline's Junker JU-52s linked both cities for the first time in what was Iberia's maiden international flight. Eighty years later, the group offers five daily flights between Madrid and Lisbon along with three daily flights between Madrid and Porto. All of these flights are perfectly connected to Iberia's network in Spain, Europe, the Americas and Africa.
T4: 10.5 million connections a year
Every year, some 10.5 million people arrive at Madrid's T4, but not to stay in the capital. Instead, they connect with another flight whose destination is another Spanish city or in the Americas, Africa, the Middle East or Asia.
The company has just created a video to make airport transfers easier and answer any queries our customers might have about where to go to catch their connecting flights.
Integra and Iberia, a second chance
Iberia is collaborating with the Integra foundation in its pursuit of social and labour inclusion for women who are victims of gender violence and people at risk of exclusion. As part of the Labour Day celebration, Iberia would like to share the story of a woman whose job at the company has changed her life.
Discover more here.
More than 280 dreams fulfilled
Since 2001, the airline has collaborated with Make-A-Wish-Spain as the official carrier. The goal of this organization is to grant the wishes of children suffering from a serious illness to enrich their lives, through unique and unforgettable experiences. Thus, children overcome negative emotions, transforming them into vitality, energy and desire to fight.
You can know the stories here.