Mario Sandoval, haute cuisine in Madrid
The chef from Madrid imagines the gastronomy of the future from his restaurant Coque, a benchmark for haute cuisine in the capital and a member of Relais & Châteaux with two Michelin stars.
You're the third generation in the kitchen. How do you remember your first contact with cooking?
My mother used to say that she would breastfeed me and cook at the same time. My grandmother would tell her, "You're going to burn that baby's face." When I was four or five, I'd go the market with my parents. I learned about seasonal foods, cuts, fish and so on. By the age of ten, I had quite a store of knowledge. Then I started helping out in the restaurant at the weekends while also attending secondary school. When I told them I wanted to be a cook, they were not happy. They wanted me to study at university. Eventually, they realised that I was absolutely serious about it.
Do you still go the market?
It's great to have one close by. I've always believed that. I've been working with some suppliers for 20 years; they're like family. One brings you turbot, another sardines. I buy other fish directly at the wholesale market. My father used to say that you have to be able to tell the good from the excellent, because everyone can tell the good from the bad.
What makes Coque a success?
For me, it's a way of life – how I connect with the world. We're a family dedicated to a restaurant created by three brothers working together: Rafa, who handles wines and the wine cellar, Diego, who runs the dining room, and there's me. Each of us designed our own space and they're ours to manage. As for cooking, it's always evolving from Madrid towards innovation. We bring back old flavours – such as  my grandmother's escabeche – but we innovate with them,  by hydrolysing egg yolk, for example. In creativity, combinations are essential.
Coque has also evolved...
There have been tough times when you could see who truly believed in the project. We've always worked with haute cuisine, and it's a rough road. We still spend 16 hours a  day here. The best part is the road we've walked with the team and the family, the memories. Great professionals  have worked here. Right now, we've got an anonymous generation of cooks who will be the masters of the future.
Have you always thought training was important?
Yes, and learning new things. At hotel and restaurant management school, I joined associations and liked to be in forums and get together with experts so I could learn. I still do it – every year I take a week and go backpacking to explore, try and taste new things. You can be good, very good, but being excellent depends on your passion.
That explains your initiatives of innovation...
The project started ten years ago. We call it cocina con-ciencia (cooking with science). We work with the Spanish National Research Council and the researcher Marta Miguel to develop techniques useful for the future, so that everything we research will be beneficial for society. Some examples are the hydrolysis of eggs – they'll be available in supermarkets this year – wine polymers, fibre (so important to macrobiotics), and fermented foods such as kombucha...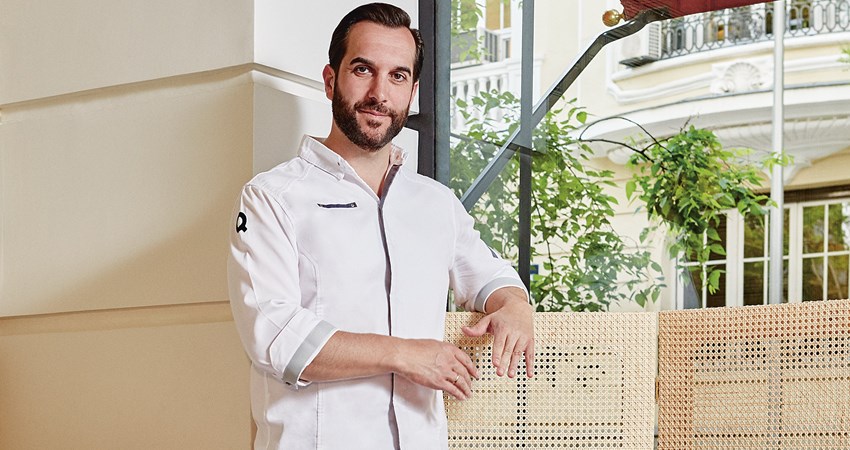 Does the pressure increase when you get your first Michelin star? You were just 27 years old.
I had no idea what it was all about. We were catering an event in Gaviria Palace and the chef Salvador Gallego called me to tell me. It caught us by surprise. After we travelled and visited other restaurants with stars, we realised that we would have to train every day, just like elite athletes.
Were you ready for the second one?
Sure [laughs]! I also loved the National Gastronomy Award, which they can't take away from you [more laughter]! Apart from the awards, it's something in your DNA. I was made for haute cuisine and, if it didn't give me butterflies, I would be doing something else.
Just a few weeks ago, you received the Cervantes Gastronómico Award for your cuisine and for promoting Madrid. Do they go together?
More and more, because the city is becoming the gastronomic capital of Spain, a country that already has the world's best cuisine. There are centuries-old restaurants, traditional foods, markets, dynamic enterprises such as TriCiclo and Arzábal, luxury restaurants and all the international options.
Do you want your children to carry on with Coque?
If that is what they want, I will give them tools that they can develop. I bring them here on Saturdays to cook with me, and they've got their skills. Anyone who wants to be a chef knows that it's a tough profession. You start out learning bit by bit, and from the inside. But if they say that they want to be anything else, I will also do everything I can to support them.