On tour with Carlos Rivera
The Mexican singer, who recorded his music video for Sería más fácil with Paula Echeverría on an Iberia plane, tells us the details of his Guerra tour which travels to Spain, Latin America and the United States.
Coming from Tlaxcala, the smallest of Mexico's 31 states, it can't have been very easy to become a pop star. 
In the smaller places, the things that connect you to the world aren't so close. It's like big dreams are forbidden, or at least that's what people tell you. I was always a completely average person, but I dreamed big and had an unshakeable faith that someday I would make it. I'm very proud of my origins.
Is that where your defence of Mexico's folklore comes from? 
Tradition is identity. We're unique because of where we grow up and because of what we were taught as children. I embrace the folklore of my land because I have become a representative of it worldwide. I stopped being the guy from Huamantla, to become the guy from Tlaxcala, then the guy from Mexico and then even the Latino guy. I love being able to represent more and more people, although my roots will always be in that magical town. If you take off the pop cover of my music, you'll hear a lot of folk music. I've listened to the greats of my country like Agustín Lara, José Alfredo Jiménez, Juan Gabriel and from outside of it, from south of here, like Violeta Parra and Mercedes Sosa.
You belong to one of the first generations of artists who first appeared on television. How do you remember that time on La Academia? 
That was 15 years ago; I turned 18 there. We lived there 24 hours a day like on Big Brother and we did X-Factor-type live shows. We were trying to be artists in a kind of pressure cooker. It was hard to understand what it was about and to handle the change without anyone teaching you. For me, it was a platform that changed my life, but it's important to understand it as a start. You can't become an artist in four months: it takes years and is the sum total of many factors until you earn your place in music. 
In the years you've been earning it, you've been successful in musical theatre and even in film, with Coco. Was that part of your dream? 
Music was the origin of everything and, suddenly, I ran into theatre. It was not a plan, but they offered my first musical, Bésame Mucho. Singing, dancing and acting are three things I am passionate about and I saw it as an opportunity. As it was related to music, I leveraged the experience to prepare myself and get better roles. Later, I did Beauty and the Beast, Mamma Mía... 
...and The Lion King. You're the only artist who has led the original cast in two countries. 
Yes, it is the most successful musical of all times worldwide and it was an honour to play Simba first in Spain and then in Mexico and to be on two albums and in the book on the history of the play. However, the role in Spain also helped me to begin working on my third album here and for it to sound good to people; by then, a million people had seen me. It's been an exciting road, much better than I had planned.
Have you maintained your relationship with Spain?
It occupies a very special place in my life. Regardless of the fact that I lived here for two years and of the success of The Lion King, it was a turning point for my work. When I returned to release El hubiera no existe, the attention was different. It was kind of like when you have to go away and when you come back, they look at you differently. When I visit Spain, I don't feel like I've come here, but rather that I've returned.
Of all the stages you've been on, which one means the most to you? 
Mexico's National Auditorium is incredible. I've been on it 11 times and I always think it's extraordinary. It's the theatre that many of us artists – and not just Mexicans – dream of. They say it's the best in the world for performing, a great building designed for the arts.
What will come after Guerra? 
There'll be more. When you win any battle, you also gain courage to fight the next ones. This album has confirmed to me that I have to commit myself to real music. We recorded at Abbey Road in London, with the London Symphony Orchestra. There's almost no space left for those productions and – though I respect all genres – that music is what I am.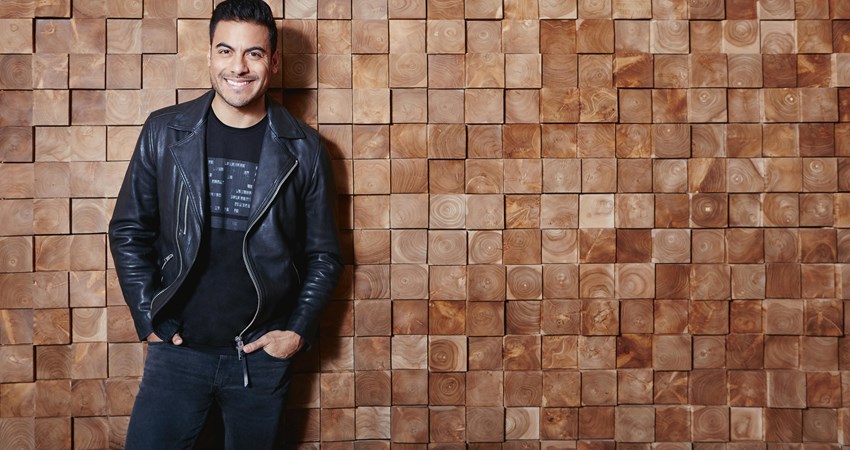 In your travels around the world, is there a particular destination that, due to its musical tradition, you're crazy about? 
Without a doubt, Spain. All roads bring me here. 
What do you always carry in your bag? 
I always carry prayer cards with the Virgin of Guadalupe and various saints, a full army that protects me.
What do you listen to when you're on tour?
Mostly the music of 'cantautores', singer-songwriters in the folk music tradition, by Spanish friends like Pablo López, Rozalén, Vanessa Martín, Pablo Alborán and by other generations like José Luis Perales, Serrat, Sabina, and also from Mexico and Argentina.
What's the best thing that music has given you?
The ability to change something in people – the fact that your music means something to someone, that it's part of their life or helps them in hard times or makes them fall in love. Nothing can compare to that.
Fly to Gran Canaria (for the 2 August show in Las Palmas) or Málaga (for 3 August in Nerja) from 9,000 Avios (return) and don´t miss Carlos Rivera on tour in 2019.
Buy tickets to see Carlos Rivera in Jerez, at the VI Tio Pepe Festival for next Saturday 10 August at 9:30pm.
Remember to buy the latest album by Carlos Rivera through the Iberia Plus Store and earn even more Avios!
Images from Alberto Saguar / Carlos Rivera has been photographed at ME Madrid Reina Victoria, melia.com