Ray Zapata and the value of effort
Having recently won a silver medal in the men's floor exercise in Tokyo, gymnast Raya Zapata, who was born in the Dominican Republic and raised in Lanzarote, is already preparing for new goals, such as winning the gold in Paris 2024.
Just a few months ago, you picked up the silver medal at the Tokyo Games. What does an athlete feel like at a moment like that?
The feeling of receiving an Olympic medal cannot be explained. You have to live it to understand it. I can only describe it as pure happiness at having attained such an important achievement, at having fulfilled a dream I've had since I was a child. The medal is the biggest thing that an athlete can attain.
What is your routine like after achieving a goal like that? Have you been able to stop?
Yes, I've had a month and a half of holiday. I'd never stopped for so long, but I needed to rest a bit both physically and mentally. And also to enjoy my little girl, who is just a few months old, and be with her and with my wife and take a little break from the world of sport.
You called your daughter Olimpia, a name that was almost a good omen.
Yes, we were weighing up several names and that one was the one that fitted her best. My goal in Tokyo was to win the medal and dedicate it to her. That way, in future, when she's a little bit older, she can see what her father did.
You started at the High-Performance Centre fairly older than is usual in artistic gymnastics. Did you ever get to the point where you thought about throwing in the towel?
Before going to the centre in Barcelona, I did think about leaving gymnastics. I was getting older and no one wanted me on their team. I got a little discouraged and thought about leaving the sport. I saw that kids of my age were already looking for work, and that they had other things in mind, while I wasn't having any success with my plans. Then, luckily, Gervasio Deferr and Victor Cano gave me the opportunity to study at the centre in Barcelona. After training with them for four years, I went to the one in Madrid. For me, it was like a lifesaver.
Was Gervasio Deferr already a model for you when it came to sport?
Of course. I knew that he had won an Olympic medal, and, as a gymnast, I wanted to achieve what he did.
Do you think you now have a responsibility when it comes to the young people who look at your example?
I think we athletes are models, and not just for kids, but also for many adults. Sport lets them see that everything is achieved with effort and hard work. The fact that someone set a goal when they were very small and had to wait so long and sweat so much to achieve it is a lesson. This is even truer now with social networks, which are a means to convey, inform and inspire kids and adults to get involved in sport and – above all – to fight for their goals.
Sport helped you to integrate yourself when you arrived on Lanzarote from the Dominican Republic. What are your memories of those first years?
I was practically shut up in my house because the only friends I had were from school, which was relatively far from where we lived. I was really bored and the gymnasium was the perfect excuse for tiring myself out and leaving my mother in peace for a while – and for getting to know people and opening up.
Dominican Republic, Lanzarote, Barcelona, Madrid... Of all the places you have lived in, which one do you like the most?
I feel like I'm from all those places, because each one has given me something and provided me with opportunities to grow. Spain has allowed me to do that as a person and as an athlete. I love the Dominican Republic – I really love the food. And I was raised on Lanzarote. My career as a gymnast began there, which is why I feel a special affection for it.
When you travel for competitions, do you have time to visit the destinations? You've been to interesting places such as Rio de Janeiro, Tokyo and Baku, Azerbaijan.
Strangely enough, Azerbaijan is the only place I was able to visit. It's true that we athletes travel to many places, but we don't do it as tourists. We're going to compete and – at the very most – we have a couple of hours to go out for dinner. You haven't got a week to visit the country. You finish a competition on a Saturday. You have to go back on Sunday, because on Thursday you're travelling somewhere else and you've got to train. I would have liked to do some tourism in Tokyo, but I wasn't able to because of the Covid restrictions. At some point, I'll take a trip to Japan with my family because it's a country that piques my interest.
Did the postponement of the Olympic Games due to Covid have a negative impact on your plans or did it give you some extra space?
For me, it was great. I'd done a lot of competitions and I took advantage of the postponement to have ankle surgery. I had some loose bones that had broken under impact. It was an extra year. That seems like a long time, but it isn't. I recovered and went to Tokyo at my peak.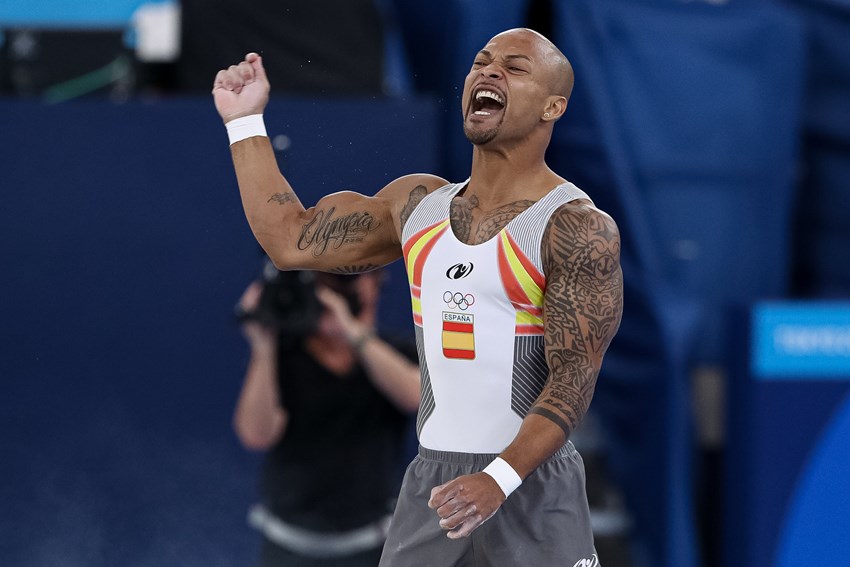 And how are you now?
I've just got back into it and I'm doing it bit by bit. I have tendinitis in my Achilles heel, so I need to take good care of myself during this cycle so I can compete at the highest level.
And the gold in Paris?
Without doubt, it's the goal.