Fernando Terol shares how IAG Cargo transports Covid-19 vaccines
IAG Cargo's general manager for Spain talks to us about the critical work the company has been carrying out during the pandemic. It has adapted to the new situation in record time – from the very first flights transporting PPE to those now carrying vaccines.
Since the beginning of the health crisis, IAG Cargo has played a very important role in transporting supplies. Now, with the arrival of vaccines, what role are you playing?

2020 proved to be an extraordinary year for the air cargo industry, and that has continued into 2021. IAG Cargo stepped up to these extraordinary circumstances, we moved quickly to open up capacity as passenger routes paused by introducing innovative solutions like cargo-only, we converted passenger aircraft into freighters by removing seats from the cabin and strapped freight to seats. IAG Cargo was one of the first cargo carriers to develop a cargo-only network to keep the world moving and support global trade and the fight against COVID-19.
We moved over 20,000 tonnes of PPE in 2020 and large quantities of sanitiser, ventilators and COVID-19 testing kits alongside our regular movements of food, medicines, high tech and parts for industry. More recently IAG Cargo is playing a key role in the COVID-19 vaccine rollout and we've already delivered over a million doses of vaccines across the world, including Mexico, Canary and Balearic Islands, El Salvador, Dominican Republic, the US and Melilla.
How long have you been transporting vaccines and what measures are you using to protect them, for instance, to maintain them at the correct temperature?
IAG Cargo already benefits from having some of the best cool chain facilities in Europe and supports many of the major pharma manufacturers to transport their products around the world. Our specialised Constant Climate service, safely and effectively transport millions of temperature sensitive pharmaceutical products every year. We have three main pharmaceutical hubs at London-Heathrow, Madrid-Barajas and at Dublin Airport and an extensive global network of over 100 approved stations, supported by constant climate specialists.
We have developed a seamless process which includes tracking and monitoring services to ensure that the required temperatures are maintained throughout a flight and whilst we regularly transport vaccines at extreme cold temperatures - temperature requirements such as -70C is certainly not commonplace. Our teams began preparing for a potential vaccine in summer 2020, in anticipation a Covid-19 vaccine would need to be kept at an ultra-low temperature. They evaluated the whole process, and importantly looking at how much dry ice might be needed, as dry ice plays a pivotal role during distribution to maintain extreme temperatures. Thanks to this preparation, and our existing cool chain facilities – which are some of the best in Europe – IAG Cargo responded quickly to the demand to transport the vaccines.
And once they're in Madrid?
Refrigerated lorries designed specifically for transporting pharmaceutical products are used to move them from the loading terminal to the hold.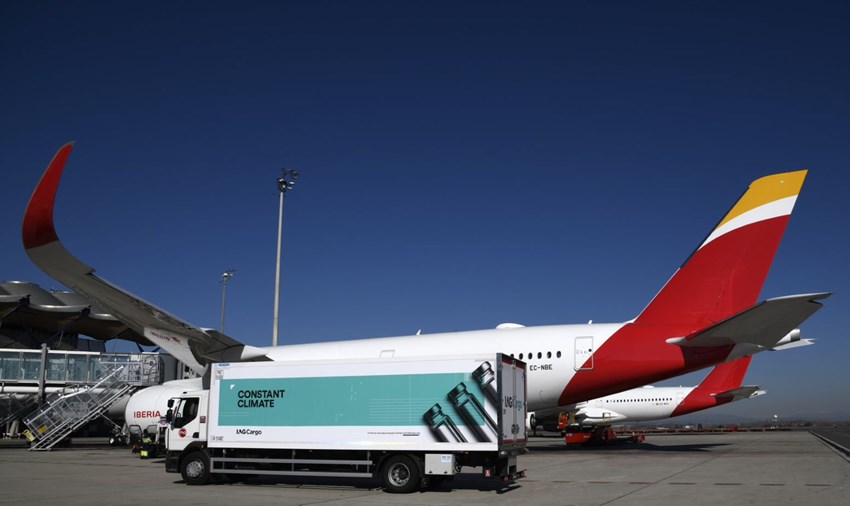 With two dedicated temperature-controlled chambers totalling over 900m2, our Madrid pharmaceutical facility is the largest in Southern Europe. It also has the GDP (Good Distribution Practice) certificate, which is essential for transporting pharmaceutical products. At a global level, IAG Cargo also has Constant Climate, a state-of-the art product that is a leader in maintaining the cold chain.
How many vaccines have you delivered to date?
We started in December, and were one of the first to do so and have already delivered over a million vaccines across the world.

Parallel to the beginning of the arrival of vaccines, Madrid had a huge snowstorm that really complicated the operations. How did you manage to keep up the supply? 
It was thanks to tremendous efforts by both Iberia and IAG, and with the support of Aena, assistance from firefighters (who helped us with the snow), a lot of contingency plans and a team that worked for 24 hours a day for several days. Saturday was the most difficult day due to the closure of the airport, but we gradually returned to our normal processes.
This is not the first time that Iberia and IAG Cargo has transported vaccines or medicines – how important is air cargo for the transportation of pharma products?
Our world-class Constant Climate service in normal times already transports millions of shipments of temperature sensitive pharmaceutical goods every year, recently we transported three tonnes of the MMR vaccine to Havana and we regularly transport cancer-fighting medications. IAG Cargo supports many of the major pharma manufacturers to transport life-saving vaccines and medicines around the world.
Last month we celebrated the 2-year anniversary of our multi-million euro pharmaceutical centre in Madrid. Since its opening we've processed over 20,000 consignments of pharmaceutical products including vaccines to support global immunisation programmes for diseases such as polio, diphtheria, and measles. 
When a life-saving medication needs to be transported at speed thousands of miles from its manufacturer – only air cargo makes this possible.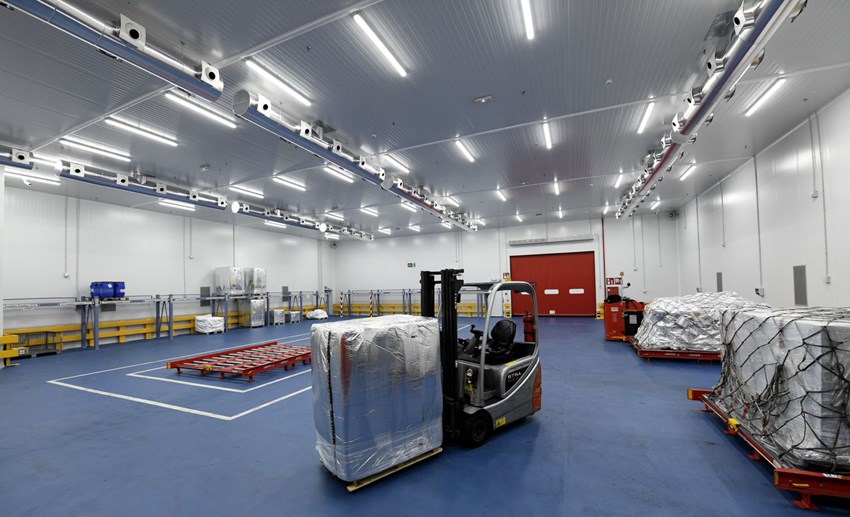 Last spring, Iberia and IAG made 100 flights with protective equipment from China for healthcare workers. How does it feel to be at the forefront of such important and necessary operations?
I am very proud of my colleagues at IAG Cargo, who continued to find solutions for our customers at the outset when passenger flights paused. Despite the various challenges for the team, many who were working from home for the first time we created a 'health corridor' between Spain and China to ensure we could deliver the PPE that was so desperately needed. In addition to those cargo-only flights for PPE, with Iberia we completed 277 repatriation flights, helping overseas travellers get home, on which we carried 3 million kilos of essential cargo for Spain's pandemic effort.
Now as we distribute vaccines around the world, we feel an enormous pride to be playing our part in the fight against COVID-19 as we remain committed to continuing to offer our expertise during 2021.
Has it changed you in terms of the way you see the meaning of your work?
While 2020 was a challenging year for the team, I cannot be prouder of the way our teams came together, and continue to deliver, as we remain focused on playing our role in the fight against COVID-19.
As our industry distributes vaccines across the world, the role of air cargo is taking centre stage and being recognised - the pandemic has made us all appreciate the role of logistics, and how it has enabled global trade to continue throughout this pandemic.