Delicious and sustainable
Deliverfly, the initiative launched by Iberia on Global Recycling Day in March, is another step forward in enhancing our travellers' experience while at the same time reducing the generation of on-board waste.
Deliverfly provides a carefully curated culinary offering that will allow customers to choose the food they want to enjoy on board before their flight. This service is now available on all Iberia's short- and medium-haul flights and includes a wide variety of tasty and healthy products prepared daily by Do&CO, Iberia's catering service.
Choose from a broad range of dishes with vegan, vegetarian, cold, hot, sweet, savoury and child-friendly options. They're all appetising and budget-friendly, including vegan and salmon poke bowls, Caesar and Mediterranean salads, vegetarian or BLT sandwiches, pasta, lasagne, and gourmet snacks...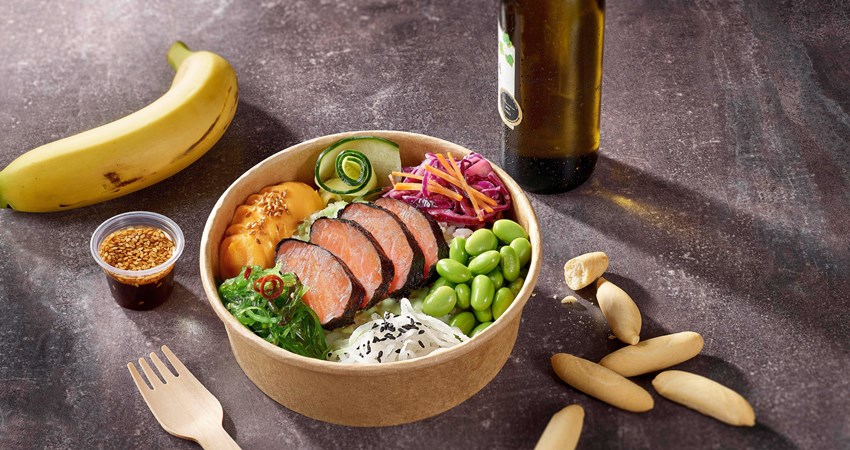 A commitment to sustainability
With this new service, the airline is making a commitment to providing its customers with an improved product: a high quality, healthy and appetising offering that customers can custom design. And, because it's ordered in advance, its availability on board is assured. 
Due to anti-Covid safety and hygiene measures, Iberia had suspended its on-board service in Economy class for its short- and medium-haul flights. Now, customers can once again enjoy eating with this new on-board service, which allows them to choose their meal and pay for it before boarding the airplane.

This initiative is also part of the company's sustainability plan, as it helps to reduce the generation of waste, since only what will be consumed during the flight is prepared and loaded on to the airplane. This also reduces the on-board weight, fuel consumption and CO2 emissions.
How can I order Deliverfly?
Deliverfly is available here from the time you buy your ticket up to one hour before your flight departs.
Orders for poke bowls, sandwiches and other fresh products can be made up to four hours before the flight departs if the origin airport is Madrid and 24 hours in advance if the flight leaves from another airport in the Iberia network. The rest of the appetisers and drinks can be ordered up to one hour before flight departure.