Iberia is committed to sustainability and to strengthening its routes
For the start of the year, Iberia has focused on transforming air transport, maintaining and announcing new destinations and strengthening its position as a bridge between Europe and the Americas.
For a greener future
First flight with biofuel produced in Spain from waste
Iberia and Repsol have launched the first flight powered by biofuel produced in Spain from waste. A regular flight between Madrid and Bilbao operated by an Airbus A320neo  – one of the most efficient aircraft on the market with capacity for 180 people – managed to reduce the emission of CO2 into the atmosphere by 1.4 tonnes thanks to improvement in consumption efficiency provided by the aircraft and the use of sustainable biofuel. In addition, an electric propulsion vehicle with zero emissions was used for all ground operations. Iberia Airport Services has deployed the most efficient vehicles in all its airports in Spain.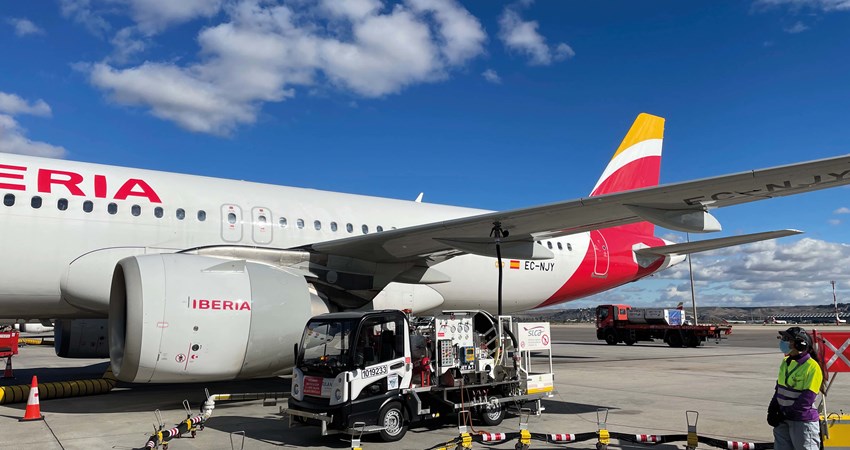 La Muñoza already has the largest self-consumption plant in the Ibex 35
Iberia and Getting Greener have taken the first step in their energy efficiency project at La Muñoza: the largest self-consumption plant in an Ibex 35 company or group. It will generate 80 million kilowatt hours an hour – the equivalent of the consumption of 800 households – with more than 5,600 solar panels on top of Iberia's engine workshop. This first installation will produce some 2.7 million kWh/year, which equates to 32,000 fewer tonnes of CO2 during the project's life.
More destinations and frequencies
There are increased frequencies to Latin America: Mexico, Colombia, Argentina and Puerto Rico. This summer, Mexico City will have 19 direct flights a week. In addition, Bogotá will have two daily flights, surpassing pre-pandemic capacity, Buenos Aires will have up to 14 a week, depending on the month, and Puerto Rico will have five weekly flights. Currently, 70 flights a week are offered to all the pre-pandemic destinations in the United States: ten weekly flights to New York, ten to Miami each way, five to Chicago per week and three weekly flights to Boston and Los Angeles.
What's more, some of the new winter destinations will be extended for a few more months. A case in point is the Maldives: until February 2022, there will be two direct flights a week to Malé, its capital. There will also be three weekly flights to Cali until March 2022. And there are new destinations: Iberia and the Spanish tour operator SamaTravel have agreed on charter flights to Cairo and Luxor in Egypt from 8 January to the end of October.