How Munich turned traditional fashion into avant-garde
When the people of Munich realised that the charm and elegance of their traditional outfits went beyond Oktoberfest celebrations, they transported them into everyday life and occasions. And a new generation of designers has given these Bavarian fashions a modern, haute couture twist so that they are once again a hallmark of the city.
Palace-filled, multicultural Munich so beloved by tourists for its 1,000 shops and 450,000 square metres dedicated to retail, has never lost its dynamic, creative heart. When it comes to fashion, it is the cradle of the garments most identified with German tradition, trachten: fitted dresses with ample necklines or leather trousers with braces.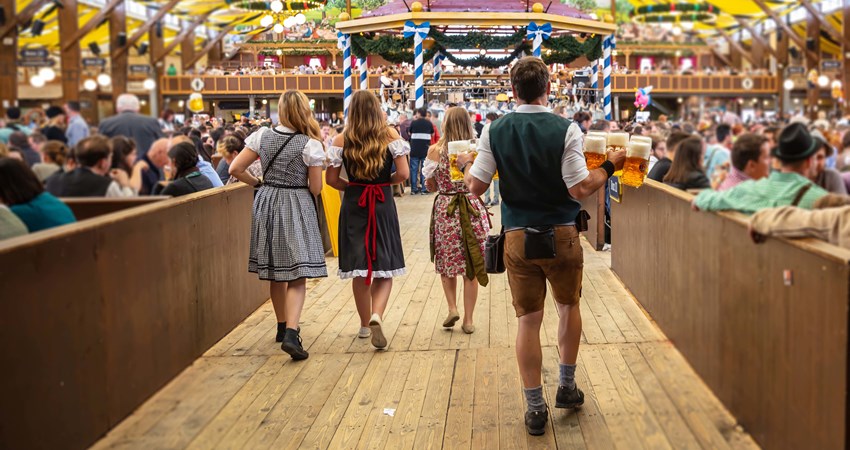 Among cobbled streets, legendary breweries and pointy Gothic churches, display windows in the Old Town are once again filled with updated dirndls and revamped lederhosen that work as well at a wedding as at a club. These boutiques have changed everything in fashion hubs, including fashionista favourite Glockenbachviertel and the spacious Milbertshofen, originally built for the 1972 Olympics. A good part of the success of the return of trachten is due to the flattering silhouette created by dirndls, with their waist-whittling corsets and low necklines.
The dirndl by Caroline Hermann-Lauenstein at her Die Rockmacherin
The pioneer who succeeded in bringing trachten into the 21st century – turning Munich fashion on its head – is Caroline Hermann-Lauenstein, with her Die Rockmacherin collection. The designer is a lover of tradition: 20 years ago she decided to bring the dirndl back to everyday life with versions that allowed it to be combined with more modern garments, such as a shirt or an elegant blouse, or with heels or trainers.
Lola Paltinger: trachten to haute couture
Lola Paltinger is another veteran designer. She trained with Vivienne Westwood and has been committed to bringing the trachten to haute couture. Her sophisticated and elegant designs successfully moved from the city to Hollywood, and to international catwalks, and to clients such as Salma Hayek and Kim Kardashian. Lola says that once you meet someone wearing these garments, it's disappointing to see them in regular clothing.
"Dirndls are sexy and feminine," says Lola.
Alpenmädl, also for weddings
Claudia Nowka's Alpenmädl workshop, which specialises in traditional wedding clothes, has also reinterpreted these pieces for everyday fashion. She started with brides who wanted to get married in tailor-made classical Bavarian clothing, a custom that has survived and is now more in vogue than ever. Today, her shop combines those wedding garments with new, exclusive designs.
Angermaier, Gottseidank, Noh Nee, Holareidulijö and other brands that have joined the trachten revolution
Further proof that these garments have been popularised is the existence of brands such as Angermaier, which sells dirndls from €80 and has four shops: two in Munich, one in Berlin and another in Stuttgart, along with various temporary spaces during the high season, in the months before the Oktoberfest. It's a kind of 'Zara' for trachten, mindful of all the trends and designs, from the classics to the most up-to-date, from formal attire to outfits you can wear to go out dancing on any Saturday at a club.
And if Angermaier is for everyone, Gottseidank is for the most modern of all. Its shop is located in a restored building full of character in the Milbertshofen neighbourhood, and it has an informal, young and minimalist vibe. Its vision is purely avant-garde with handmade lederhosen and dirndls that are redesigned to do more than give a mere contemporary touch.
But if there is an absolute reinterpretation of the dirndl, is the one at Noh Nee, run by sisters Rahmée Wetterich and Marie Darouiche, whose roots are in Africa. Their designs are an uncomplicated mix of their two worlds: Munich, which became home to them five decades ago; and places such as Mali and Ghana, where they find inspiration to highlight a traditional cut with colourful prints.
Second-hand shops – an institution in Munich, which has 18,000 students residing here – have also joined the trend. One outstanding example is Holareidulijö, whose vintage trachten are selected from among the most elegant and fashionable ones around.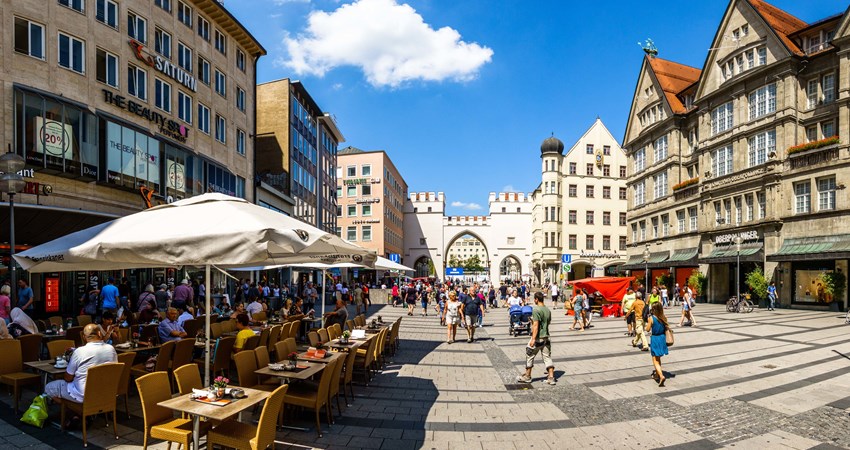 Shopping in Munich does not end with dirndls. There is a lot of young fashion in local brands such as Oska and Mykke Hofmann, the clean styles of men's brand Hannibal and the creations of Angelika Paschbeck, who embroiders her baroque scarves in her atelier in Westend. Internationally recognised fashion includes the designs of Escada, Susanne Wiebe and Gabriele Blachnik, whose fans encompass celebrities and movie stars. And the baton is being passed to young creators, such as Ayzit Bostan, international brand Talbot Runhof, Natascha Muellerschoen, the 20-something group, A Kind of Guise, and Patrick Mohr, whose designs always aim to go just a bit further. Accessories also have their space on the streets of Munich, with home-grown examples such as Nikki Marquardt's hats and jewellery by Saskia Diez and Isabella Hundt. With or without dirndls, these designers all live and work in – and are inspired by – a city whose diversity and tradition bring them together.