Capital of luxury tourism
With the arrival of top hotel brands, Madrid has earned its place among world destinations with the highest concentration of luxury hotels in its urban centre
The mission of converting Madrid into an international luxury destination has borne fruit. Known for its excellent gastronomic offer, with some 20 Michelin-starred restaurants, the city has now added to its tourist attractions a number of exclusive hotels that offer unsurpassed standards of quality and personalised services for well-heeled travellers.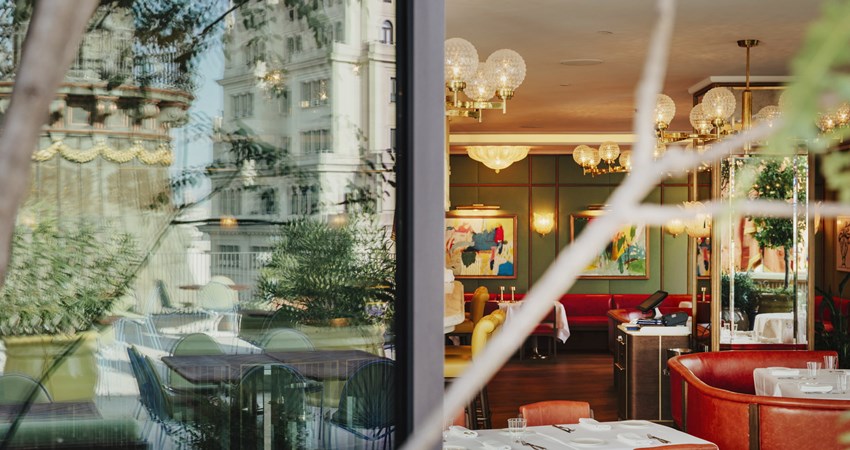 Four Seasons Hotel Madrid was the first on the list to open its doors – in 2020. It is located in the Centro Canalejas in a set of seven exceptional buildings built between 1887 and 1976 that have been meticulously restored. This architectural jewel is in the historic heart of the city, and also offers an exquisite Food Hall and boutiques in Galería Canalejas. The hotel has 200 rooms (including the 400sqm Royal Suite), with a four-storey spa and a terrace with an indoor pool, and its rooftop is home to a new restaurant from Dani García, one of Spain's top chefs. As a tribute to Madrid's prestigious museum offering, the hotel's hallways exhibit an important collection of 1,500 paintings, photographs and sculptures by both classic and emerging Spanish artists.
Just minutes from here, in the Landscape of Light (an area declared a Unesco World Heritage Site in 2021 that includes the Paseo del Prado and its wealth of art, and Retiro Park), we find another titan of luxury: Mandarin Oriental Ritz, Madrid. Inaugurated in 1910 by King Alfonso XIII, the legendary Belle-Époque-style palace that is home to it reopened its doors in 2021 (it was formerly known as the Ritz de Madrid) after undergoing the biggest refurbishment in its history. The hotel has been reborn with renewed splendour, offering 153 rooms designed by the prestigious Parisian company Gilles & Boissier and boasting an underground pool, sports facilities and a spa. It has five restaurants, including Deessa, headed by the prestigious chef Quique Dacosta, whose restaurant in Dénia holds three Michelin stars.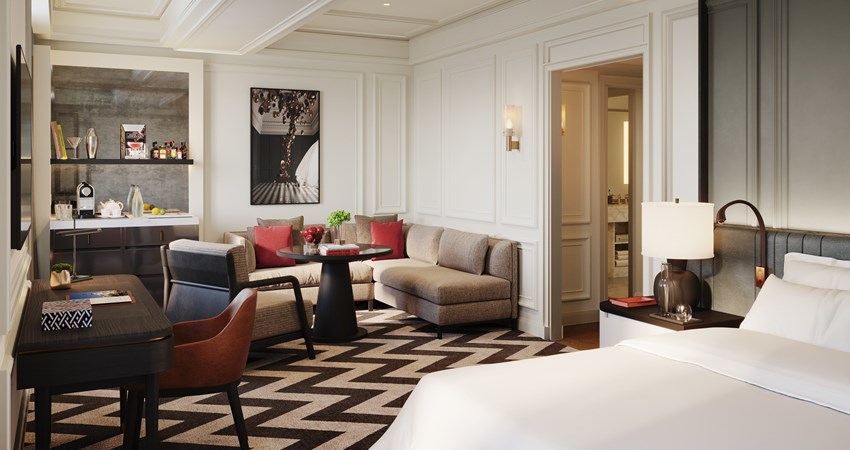 Not far from here, at number 22 on the Paseo de la Castellana, you'll find the famous Villa Magna, which reopened its doors to guests last year after some ambitious remodelling carried out by Rosewood Hotels & Resorts Group. The establishment, now called Rosewood Villa Magna, is located next to the sophisticated Serrano shopping district, and has 101 rooms – its signature suites are said to have Madrid's largest terraces – and a warm and refined décor. Guests and visitors can enjoy Amós restaurant, headed by chef Navarro Jesús Sánchez, whose Cenador de Amós in Cantabria also has three Michelin stars.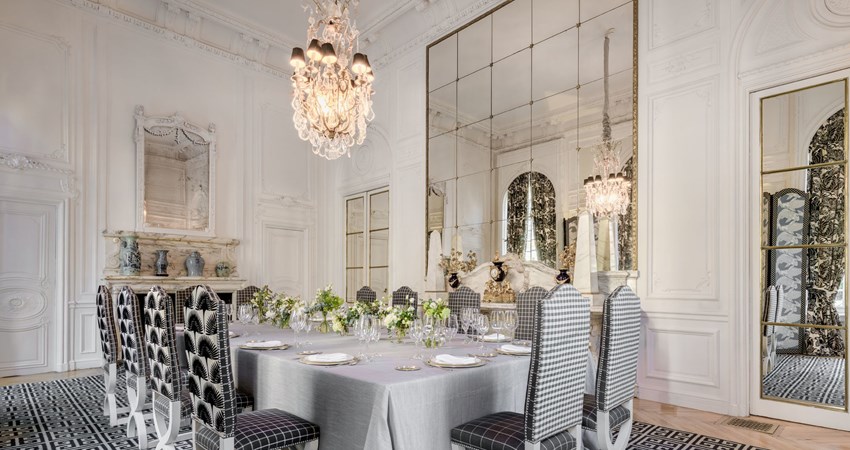 Another worthy hotel is the Santo Mauro Autograph Collection in Chamberí. Located in a former 19th-century palace complex comprising three French-style buildings surrounded by a leafy garden, it has 49 rooms featuring 19th-century décor, a lovely terrace, an Art Deco bar, an imposing lounge where oriental pieces are on display, and a restaurant located in the Duke of Santo Mauro's former library.
The number of luxury hotels in Spain's capital will continue to grow in the coming months with two ambitious Marriott projects. One will be the exclusive Madrid Edition hotel, located opposite the Descalzas Reales Monastery, just metres from the Puerta de Sol. It will have 200 rooms, an outdoor pool, a gym, a spa, a fine dining restaurant, terraces (one on the rooftop) and a bar. The other project will be a luxury hotel from the JW Marriott brand in Canalejas Square, opposite the Four Seasons. This new five-star will occupy the restored former Asturias Hotel building and offer 139 rooms (two floors will be for suites with outdoor terraces), a bar, a restaurant, a gym and several spaces for relaxing. As if that isn't enough to look forward to, one of Madrid's great architectural icons – the Metropolis building located where Alcalá and Gran Vía meet – will reopen at the end of the year as a boutique hotel. The historic property from 1910 is being refurbished and redecorated by the prestigious Spanish interior designer and architect Lázaro Rosa-Violán. The hotel will boast a spa, a private club and several restaurants that will surely top off an irresistible panorama of attractions for visitors.