We're taking Spanish fashion and gastronomy further
This summer, we've got good reason to celebrate! Our employees have already debuted their new uniforms, which were designed by Teresa Helbig. Just as this collection is a decisive commitment to Spanish fashion and culture, our new gastronomic offering is also a commitment to the most exquisite of local cuisine.
Iberia's new uniforms elevate the flight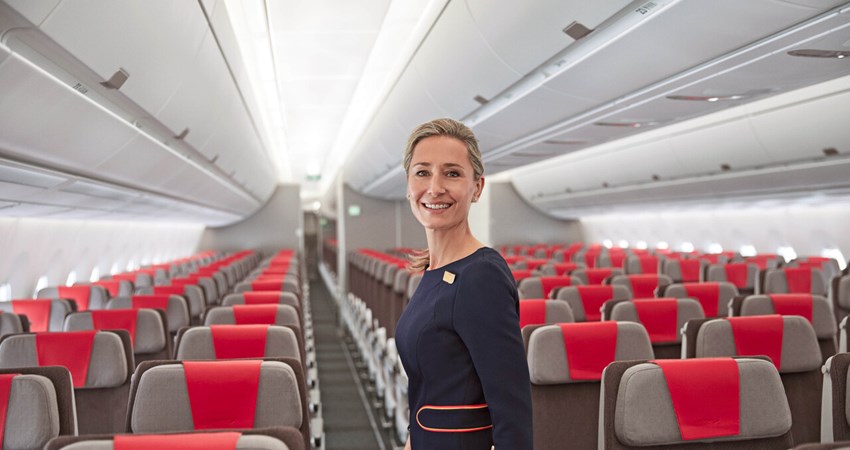 Iberia employees are already sporting their new uniforms – designed by Teresa Helbig – at our nearly 140 destinations in 43 countries. Initially, it was the cabin crew and Madrid airport staff who debuted the collection, with the rest of the airports gradually joining.
Designer Teresa Helbig is the first woman to be responsible for creating these garments. Elegant and comfortable, they are dominated by blue, red, yellow and beige, which embody Iberia's identifying values: edginess, proximity, vitality, excellence and helpfulness.
True to its commitment to sustainability, Iberia – together with Envera – has developed a project to donate these clothes to the Spanish Red Cross, Caritas, Mensajeros de la Paz and Humana, while the Iberia Airport Services polos will be completely recycled into new clothing.
Iberia updates its gastronomy
The company's culinary offerings have been updated with our catering supplier DO & CO, which emphasises Spanish cuisine prepared daily with high-quality raw materials and local, seasonal products, and the richness of Spain's gastronomy.
The new offerings for long-haul flights include snacks, more options for main dishes and desserts, and greater interaction with the cabin crew with the passengers being served. The presentation is also notable, with details such as the tableware and linens, and the iconic "Las Meninas" salt and peppers shakers.