Want to know more about On Business, the loyalty programme for companies?
Antonio Linares, sales director for Spain, Portugal and North Africa, has the lowdown.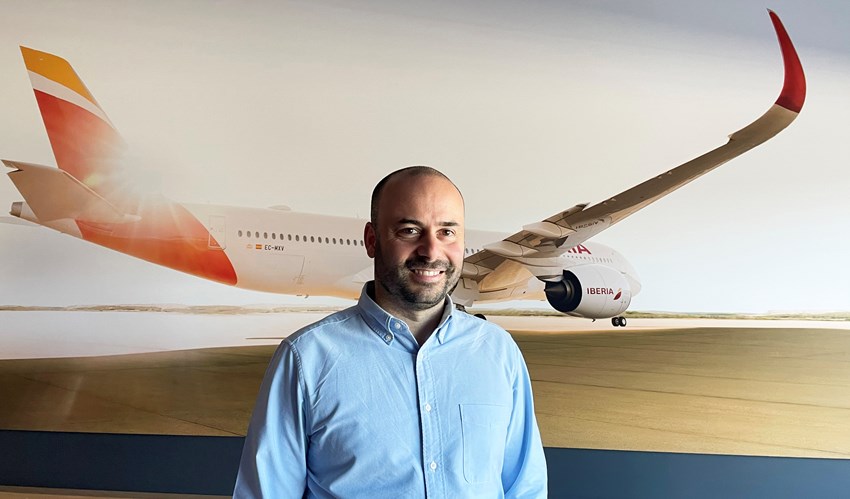 How many companies are registered in the On Business programme?
Right now, there are 22,000 in total. Of these, 18,000 are Spanish companies and 4,000 are from the rest of the world, particularly Latin America and Europe, the Middle East and Africa. 
What is their profile?
Iberia's corporate customers include large accounts but, in the case of On Business, it's mainly SMEs – smaller-sized companies with fewer employees that need other features to fly. More than half of our On Business accounts have fewer than 20 employees, and they require less complexity in handling them as they don't have contact-negotiating structures. In fact, the programme is aimed at companies that handle arrangements themselves, although arrangements via travel agencies are also provided for. With few exceptions, these companies usually do not have teams working on managing the relationship and the product, which is also free of charge and volume minimums. 
What are the main advantages of On Business?
In a nutshell, the purely financial offering is €1 = 1 point at the basic level; €1 = 1.25 points with invoicing of more than €10,000; and €1 = 1.5 points when spending €40,000 and upwards. To give you an idea, 2,800 points are equivalent to a trip on the peninsula. What's more, you can choose points or discounts in Spain or in other countries. In addition, On Business has a specific type of servicing, with a specific and specialised service channel. Furthermore, this programme does not involve just Iberia or IAG. American Airlines, British Airways, Air Nostrum and Iberia Express all participate. There are also financial partners such as Iberia Cards, which are exclusive. 
Is the On Business programme and its advantages for companies compatible with Iberia Plus and its particular advantages for employees?
Yes, the On Business programme is compatible with Iberia Plus, and our customers value this very highly. 
On Business is preparing webinars so that our customers can make the most of the programme. What will they consist of?
We see a very large grey area between the handling the arrangements oneself and having an account manager. These webinars are focused on that middle area and we talk about all the operational enhancements. We've undertaken to explain what we've already launched – such as these operational enhancements – and also talk about current issues, such as sustainability. We're going to keep up this communication window every two months with topics of interest that are not just business-related. Segmentation is a window in itself, and this segmentation and delimitation makes it possible to share information on topics related to the network, for instance, so that our customers know how to earn and redeem points on a network that's not just Iberia but a very broad 360° network of impressive frequencies. The attraction part is very relevant. 
Other new developments include a new newsletter for registered customers. What will it include?
We're reviewing all the lines of communication we're going to have with our On Business customers, and the first step is the newsletter. The new one will be quarterly and divided into two big parts. The first part will have a summary of that company's activity in the last quarter: you've flown X times, this was your favourite route, you've accumulated X points, these points in your balance will expire on X date, or, for example, your balance is equivalent to this number of flights on your favourite route. The second part will share news relevant to the SME sector and, accordingly, will be aimed at customisation, at sending the news most relevant to each company at a specific level. If, for instance, a company is just taking national flights, it makes no sense to talk about a route to Brazil... All this content is part of a global strategy in which we communicate not only with companies, but also with the agencies that manage these companies and from which many of their flights come. We're also addressing and including them. 
Digitalisation, which cuts across all segments of the company, brings new advantages to managing the On Business account.
These are enhancements in the pure part of handling one's own arrangements, for access, for solutions if you lose your password, for how we present the information in order to customise the content according to the needs and interests of the customer company. In addition, digital invoices are no longer obtained on request. They're now automatic. We use digital channels to simplify and provide better service. 
Is there still direct contact for people who prefer to speak with an agent?
If you want to call, you have a 100 per cent dedicated team who are experts in the programme at your disposal. This call centre is new (918 790 033). It was launched on 15 September and is only for Spain, although we'll gradually expand it. Calls are answered very quickly, though they've also dropped a lot due to the enhancements we've introduced.
Ten reasons to fly with On Business decálogo

 

 
To take part in Iberia's free programme for companies.
To benefit immediately from the trips your company is already taking.
To enjoy a 360° network of destinations with a very high rate of frequencies.
To earn On Business points that you can redeem for flights or upgrades to better cabins...
... or get immediate discounts on your flights.
So that your employees who travel also benefit from accumulating Avios in their Iberia Plus account.
To manage your business trips as you prefer: by yourself, or through your agency.
To fly with a reliable and safe company, as we've demonstrated in recent years.
To fly towards a better future with our ambitious goal to achieve climate neutrality by 2050.
To have a Customer Service team exclusively dedicated to On Business.