How does Iberia manage to be the most punctual European airline? Antonio González-Montagut, director of Iberia's Flight Operations, explains
Fotos de Joseph Fox
Iberia has just received a new award from Cirium at FITUR for being the most punctual airline in Europe. Why?
We compete in a very tough environment, where any outside factor affects our daily operation, forcing us to make changes in the flight schedule, affecting our punctuality. Being the number-one airline among European companies is a significant achievement, for which credit belongs to Iberia's great team, which is perfectly aligned with a common objective. This award is earned not only by a well-organised Operational Control Centre (CCO), but also by all Iberia's employees working every day to give the best service to our customers. 
Behind these high punctuality scores are many teams working daily on different fronts: at Madrid-Barajas Airport, Maintenance in La Muñoza, the crews operating our aircraft and serving customers on board, and the staff at the different national and international layovers, who occasionally lend our flights a hand. The key to this success lies in teamwork.
What operational differences do long-haul flights have compared to short-haul flights?
They are completely different. Iberia's main business is long-haul flights. It uses the short-haul network to feed flights to the Americas, which is our main market. The greatest challenge of long-haul flights compared to short-haul flights is the flight time and the distance over the Atlantic to alternative airports in the event of an incident. These flights have very high occupancy rates and require very rigorous planning and thorough oversight. The aircraft that fly over the peninsula and Europe stop at night, while the use of large aircraft flying to the Americas is greater due to the duration of their flights. Being a network company with long-haul flights sets Iberia apart from other companies that only operate short-haul flights. Iberia flies 24 hours a day, 365 days a year. The safety of our flights and the protection of our customers are our priority, and all flights are monitored and supported by the CCO.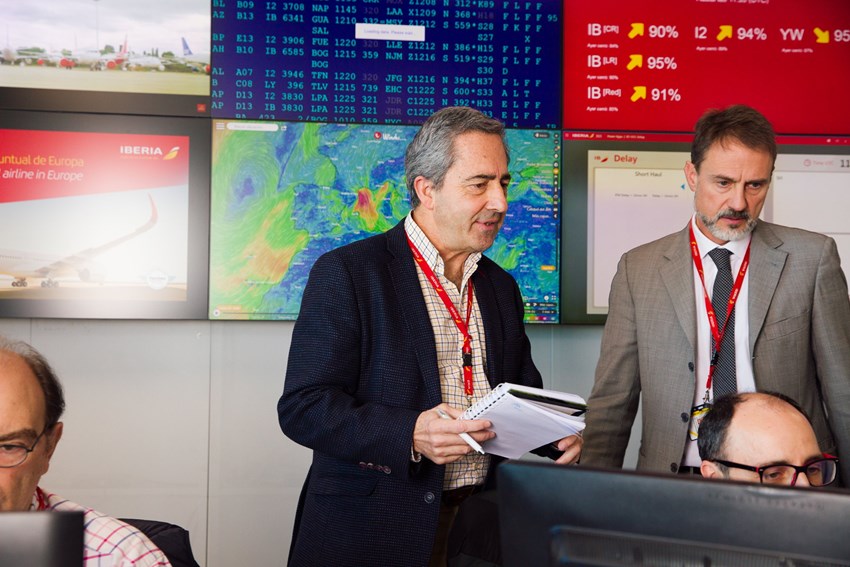 Is punctuality one of the qualities that Iberia customers value most?
Customers choose Iberia mainly because of the guarantee offered by its brand, which translates into the safety and trustworthiness we deliver. Iberia is a sound company that protects its customers very well and has a significant presence on the other side of the Atlantic. Our strengths are the safety, punctuality and regularity of our operations, as well as how we manage incidents, not to mention sustainability and the reduction of emissions, which is improving daily as we renew the fleet. Every time a customer in Latin America boards one of Iberia's airplanes, they feel at home... they've arrived in Spain. This is our great value and our strength.
How is punctuality measured?
At the CCO, we analyse all delayed flights daily, but we focus on the flights that depart more than 15 minutes behind schedule. With arriving flights, we watch the flights with delays of more than three minutes. A delayed flight has an impact on the network that we have to try to mitigate as soon as possible. When scheduling flights – which is done with great precision – we take into account safety, any weather events that might have an effect, sustainability, flight efficiency and the need to balance the minimum flight time with fuel consumption.
Is this system that Cirium also uses?
Yes. Cirium is an independent international consultancy that evaluates and compares the operations of all the airlines. Cirium's measurement is done objectively and without any intervention by companies. Its data and analysis help organisations to compare our performance, discover new opportunities and mitigate risks.
How does Iberia's Operational Control Centre work?
Iberia's CCO is the business unit responsible for controlling air operations. It covers the control of all phases of a flight, from beginning to end, from planning and dispatching flights to supporting crews, providing ground support for aircraft and customers and monitoring moving flights. Its main mission is to resolve the disruptions that affect the flight schedule as soon as possible, so that customers are not affected, and recover the network with the minimum possible impact. If a flight has an incident, the CCO looks for the best solution with the lowest impact, whether that is placing passengers in hotels, changing airplanes or relocating them so they reach their destinations as soon as possible...
The CCO is led by a Day Manager, who is a highly experienced Iberia aircraft captain with strong leadership capabilities. They are responsible for taking decisions in real time and, with the advice of their teams, resolving any disruptions that may occur in order to return to the flight schedule when problems arise. The Day Manager Team currently comprises nine commanders, who provide services 24 hours a day. There are moments of great tension in the room, but the experience and dedication of the teams mean they always arrive at the best solutions to solve problems, however difficult and unexpected they may be.
What teams make up the CCO?
The teams cover the phases of planning, execution and monitoring: we have Flight Dispatch, which plans all the flights on the Iberia network, both those departing from Madrid as well as international layovers. Ops Control and Crew Control are two teams that work together and manage resources. Ops Control (in continuous communication with Maintenance) ensures that the aircraft assigned to the specific flights are operational. If there is an airplane with a fault, it changes the aircraft registered to ensure the service. Crew Control manages the crews needed to cover the aircraft assigned to the flights.
Many ongoing incidents cause a change in the flight schedule that may have an impact that exceeds the 24 hours of the day on which we are resolving the incident. Starting every day with a stable schedule and with reserve aircraft available provides us with robustness – that's the main mission of the Routing Team.
Once the aircraft is in the air, it is continuously monitored by the Flights Monitoring and Slots Management Team. This is responsible for monitoring all the parameters so that the plane departs on time. And when the aircraft is flying it controls its progress by monitoring the speed, height, position, fuel consumption, and so on. When deviations occur, the team is alerted by an advanced three-level system of alerts (low, medium and high) that serve to prevent major problems, anticipate incidents and assist the crew in real time.
In addition, the CCO has a team dedicated to customers, Network Connection Support (NCS), which resolves any incidents affecting them. They are the room's direct contact with the layovers and provide solutions to customers when disruptions occur.
What other Iberia departments are directly or indirectly involved with punctuality?
Everyone at Iberia is very focused on punctuality. The Operational Control Centre is the company's nerve centre, but it has two very powerful arms that support it in managing the operation. Although they are located outside the CCO, we have direct and continuous contact with them. They are Exploitation – Iberia Airport Services (IBAS and the hub in Madrid-Barajas) and the Maintenance Control Centre (CCM in La Muñoza). These two teams participate in all the operational meetings we hold daily and are vital to the network functioning smoothly. Without their constant support, it would be impossible move the operation forward.
Iberia has a hub (Madrid-Barajas) that runs like clockwork, an extensive network of layovers that assist our aircraft off-base, good aircraft maintenance, highly experienced pilots and well-trained cabin crews. In short, committed teams in all areas allow Iberia to attain its punctuality objectives year after year.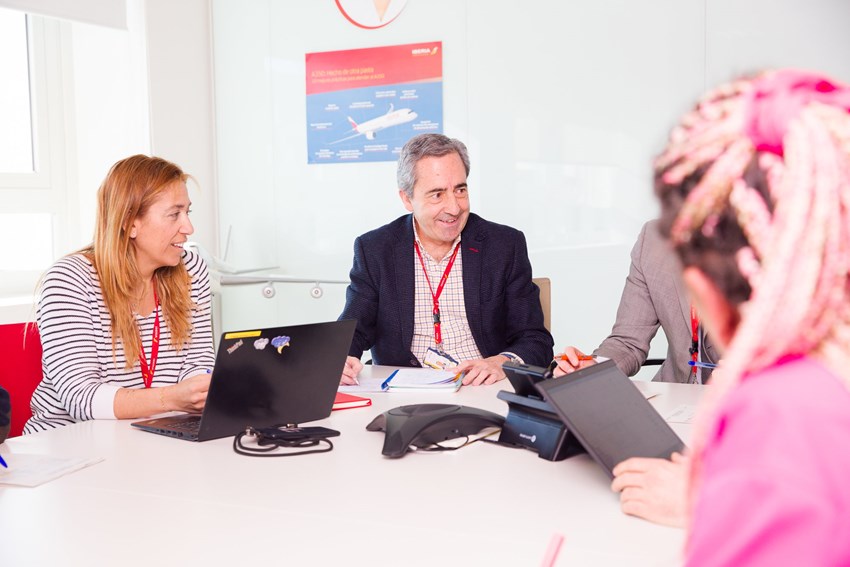 What external factors have the greatest impact?
In aviation, everything affects punctuality. We can't anticipate the faults or damages caused by an inoperative aircraft: an impact with a bird on an approach, a lightning strike that causes minor damage, upheaval in a country or a political problem that forces us to close an airport, the eruption of a volcano or weather events such as the Filomena blizzard. All of these and any other external factors not controlled by the company have a very large impact on the operation. We're used to solving any situation, and we can say that the recent pandemic has made us even better and more flexible.
Is it possible to gain time during a flight?
Time is gained on the ground. Our flight planning is so precise that it is difficult to gain five minutes on a flight. For example, from Madrid to Santiago, Chile, a flight that lasts about 13 and a half hours, it's hard to improve the estimated flight time once in the air. Time is gained with fast boarding, and a little bit when ascending and descending. But once you are cruising, the chance of improving arrival time is minimal. That's why we focus on ensuring that all the processes on the ground don't fail, so the aircraft is ready and departs on time.
What relationship does punctuality have with sustainability?
Iberia in general and our pilots in particular are all very in tune with sustainability. It's a topic that will affect us in the coming years and mark the immediate future of aviation. The company has made great efforts by incorporating efficient aircraft, such as the A350, which allows us to save 30 per cent of fuel compared to the previous generation of A346s. Crews are increasingly aware of this issue, which is linked to emission reduction. In short, new flight procedures allow for more efficient flights. The Flight Operations Directorate has developed a fuel efficiency guide that makes us more sustainable and that all pilots follow. In recent years, we've always been very focused on fuel, not only because of its high price, but because of its great impact on the environment.