Edu Soto's big screen ambitions
The Catalonian actor, one of Spain's most multifaceted performers who appears in Atresmedia's award-winning series Nacho, premieres En Temporada Baja on 14 April.
A couple of weeks ago "Nacho" debuted on Atresplayer Premium. Who is Tigerman, your character?
He's a very interesting character, a guy who existed and whose life was a little bit like that of Dr Jekyll and Mr Hyde. By day, he was a Physics professor at the University of Barcelona. At night, he would go to the Baghdad Room and do a performance that consisted of lifting a tank of butane with his penis. It's clear that he was a super-expressive and provocative guy, but  – according to Nacho Vidal himself – in his other life, he was very serious and laidback. He had a very marked double personality and a very attractive life – not for me have, but great to perform.
Performing aside, the world of acting often requires a double life, mixing casting calls and trying to survive by working at a bar.
I'd say that, even if you do well and don't have to work as a bartender, when they push the red button, life is very different to the one you live behind the cameras. I'm not going to tell you that I'm a shy guy, but I don't go through life stirring things up like my characters do. And, often, with some things I've been asked to as myself, I always say: "It would be better to make up another person; I don't want to do this." I feel like doing it as a character because it's much easier. Otherwise, you are responsible for what happens. I really like my profession, but only when hidden behind a character. 
Nevertheless, we often see you doing you on different programmes, like the last "25 Palabras". Is it harder for you to play yourself?
Well, you are more discreet. When you're on a programme, they'll often tell you, "Stir things up a bit". I've had to learn how to make a character of myself or, rather, be clear that what they want is a show. Americans do this very well. You invite an American on your programme, put a camera in front of them, and they automatically know that they have to make a spectacle of themself. In Spain, it wasn't so common, and we've gradually picked up on it. Since I've done so many entertainment programmes, I've had to learn the formula of 'being Edu' and stir things up a bit, without doing anything I'd regret. You balance out: you up the irony and lower the embarrassment.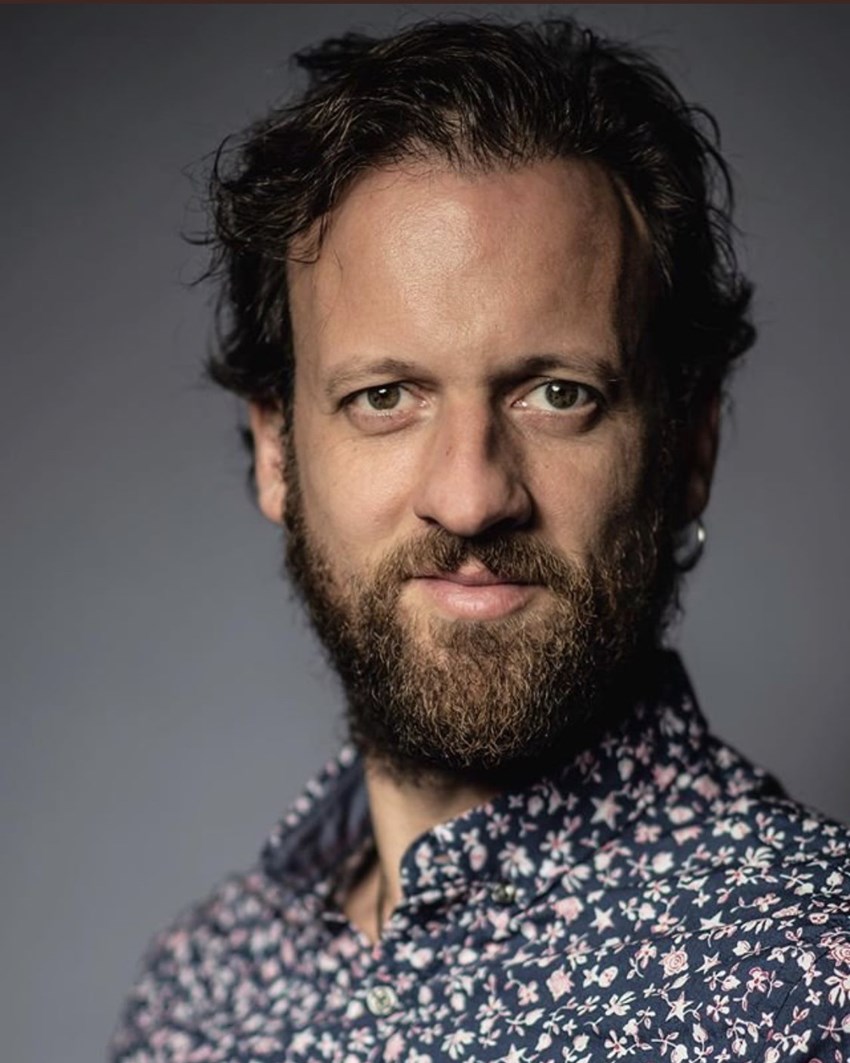 Of all your characters, Neng de Castefa was the first successful one and he was a runaway hit. Being so early in your career, did you find it hard to shake loose from it?
Yes, clearly, whatever gets you noticed is going to stigmatise you. And based on that, an image of you is created that's very hard to change later on. My career could have as easily begun based on something else. I was on that programme because I went to a casting call, but I could have started out as a musician or dramatic artist. I wasn't aiming for comedy. It just turned out like that. Then I had to live with the consequences, especially because what we did back then – and particularly with Neng and some other characters – was very aggressive and wild. Even today, I've been walking with my son down the street and heard, "What's happening, Neng?" behind me. It stays with me, even though it's been 20 years.
You've done classical theatre, drama and musicals during this time. Where do you feel most comfortable?
I do best in the theatre. That's where I've worked most, where I started, where I know the code perfectly, and not exclusively in comedy. I've done dramatic plays and felt just as comfortable when building and executing these. Perhaps what I've done least is television or film drama. I'd like to investigate more in that area, even though I've done several movies and some series over the past two years. I think that's where I could develop some muscle, because there have been fewer offers. I really don't know why. I've been called by the National Classical Theatre Company or the CDN or Mario Gas to do Incendios. However, I don't get that opportunity in television and film drama. I don't want to blame my small-screen past. I'm sure that's part of the reason, but I no regrets – entertainment has been my bread and butter for many years. We're now premiering En Temporada Baja, which is another opportunity that film has given me to make a movie with a great cast and a very powerful story.
"En temporada baja" premieres on 14 April, headed by a fantastic group of four that includes you, Antonio Resines, Fele Martínez and Coque Malla.
It's been a pleasure to work with people who are so experienced in this medium. I've learned a lot with them. The shooting was very streamlined, fast and smooth, very easy. It sometimes seems that problems always arise when such powerful personalities come together. And, from what I've seen in both theatre and television, it's the opposite. When there's people who've been doing this for many years, who have an extensive career behind them, they usually love this work and make everything comfortable.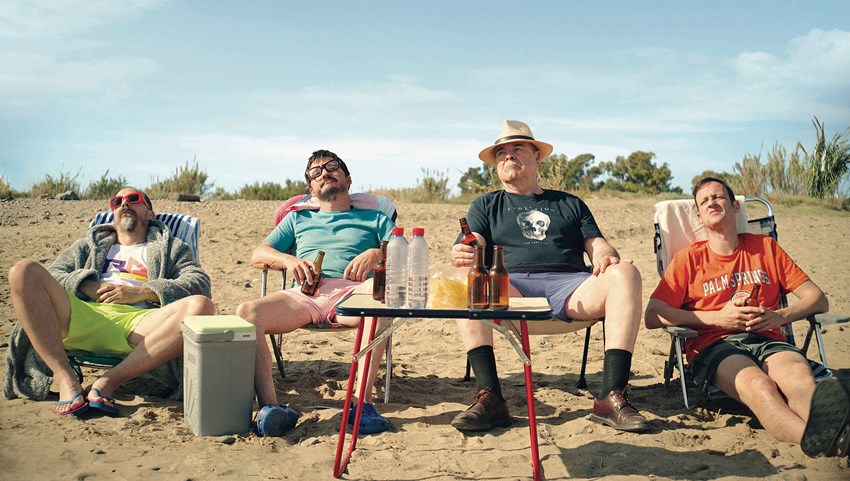 "Campeones" by David Marqués was very successful, and that has created expectation. Did you know the director?
No, I met him doing this movie. He's a guy that doesn't complicate things: he really likes to trust the raw material, in terms of both text and actors. He let us flow a lot. He also personally gave me the opportunity to do the song as well. He initially offered it to Coque Malla, but he was already busy readying his theatre show – which he recently premiered – and then he offered it to me. He knew that I make music with my wife, my brother-in-law and my sister-in-law, and I did a tune with my band, Welcome Lemi. Coque collaborated with the interpretation, and it was a great experience to share with this musical genius. 
From a humorous perspective, the film addresses very dramatic themes, which, unfortunately, are very present-day. Does humour make it possible to demystify things that are hard to talk about?
Yes, especially with authors like David Marqués, who I think is a specialist in taking inspiration from tragedy. There's a lot of misery in each of the characters, and it just so happens that everyone who comes together in the film is miserable! This makes the film very funny, but we're very deep into pathos. We were not asked to do comedy; we were asked to live that drama. That's the secret of this kind of humour, which I like so much: everything you say is based on truth, not wanting to make someone laugh or tell a joke that's in the script. 
In recent years, a lot has been said about the limits of humour. Do you think there should be any?
I think humour has whatever limits people put on it. If I don't like a comedian or a film because of their humour, I don't consume them, I don't watch them. I find it strange to condemn something you don't like, and it's very fashionable on social networks and in today's society to do so. They are changing texts like those by Roald Dahl, who wrote Charlie and the Chocolate Factory, for instance, because you can't say 'fat' anymore. In a few years, we'll be changing Don Quixote because there's probably a lot of stuff that sounds wrong today. I think it's much easier that if you don't like something, don't consume it. I think that I'm very respectful with my kind of humour. I'm not at all provocative; I don't like to mess with anyone. Hurtful humour is not my speciality. But whoever does it – and there are a lot of folk that do it, and very well – suffers a lot of pressure when, if you don't like it, you can change the channel or platform. It happened to me, too, doing a monologue, messing with a particular profession because it was it the public eye at that time, and people on Instagram in that profession bad-mouthed me. But they laugh when you mess with the profession of the person next door. That's a problem that I think exists in this society.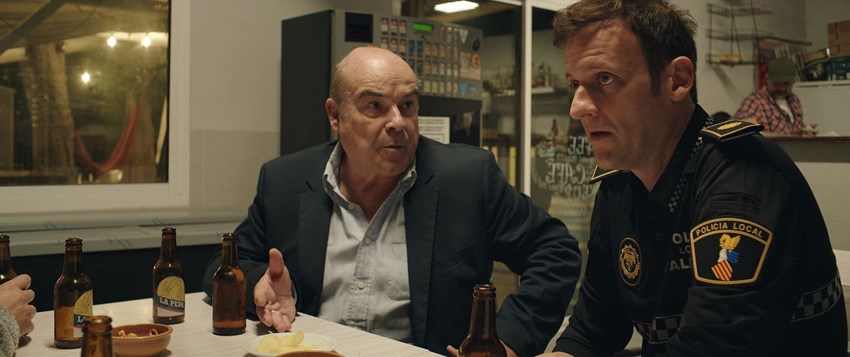 Besides acting and making music, you also write. When will Edu Soto direct?
I've written four long scripts in the last four or five years. One is in the hands of a Catalonian production company, and they are also friends I worked with on Buenafuente. They really liked it. They want to go ahead with the project. We're now working on the paperwork and rewriting the script. A couple of weeks ago I finished the seventh version. I'd be one of the main characters in the film – since I never get that kind of opportunity, when I write, I think about giving myself a part. And there's a co-star – a big name in Spanish film – who has said yes. The fact that she read the script, liked it a lot and has written a letter of commitment makes me think that I'm not so crazy and that I really do have something to say.
Do you ever doubt yourself?
Often. When you've been trying to do something for so many years, and it doesn't work out, you think, "Maybe I think I have something to say, but nobody cares about it". However, it seems that yes, I did find that niche. Now comes the hard part: getting the project going. But it's a small production company that follows all the steps very conscientiously, like a little ant, and I hope it can do it with this film. I'd be thrilled, and not just because it's a very nice movie. In the background, there's a topic about women, and it's nice to talk about this kind of thing. I'm in that place of, "Until they start shooting, I'm not going to believe it". Otherwise, the comedown can be crushing. But I trust and keep on writing. We've all got things to say, and we must dare to do them and write them. This is very difficult and takes years of work. But if you don't start, you'll never do it. I've been sowing for some time, and I hope that, someday, the reward will come to me.