A Perfect Story by Álvaro Mel
The Salamanca-born actor reflects on the success of A Perfect Story, the Netflix series based on the novel by Elísabet Benavent, in which he stars along with Anna Castillo, and his journey afterwards.
"A perfect Story" was one of Netflix's big hits this summer. What did you bring to David, your character, and what have you learned from him?
We share many things, but I think that, without a doubt, David has brought me much more. Throughout the shooting, he has made me a much more active person and has taken me out of my comfort zone. David is like a puppy, hyperactive, joking and super-outgoing, while I'm much shyer, slower, more cautious…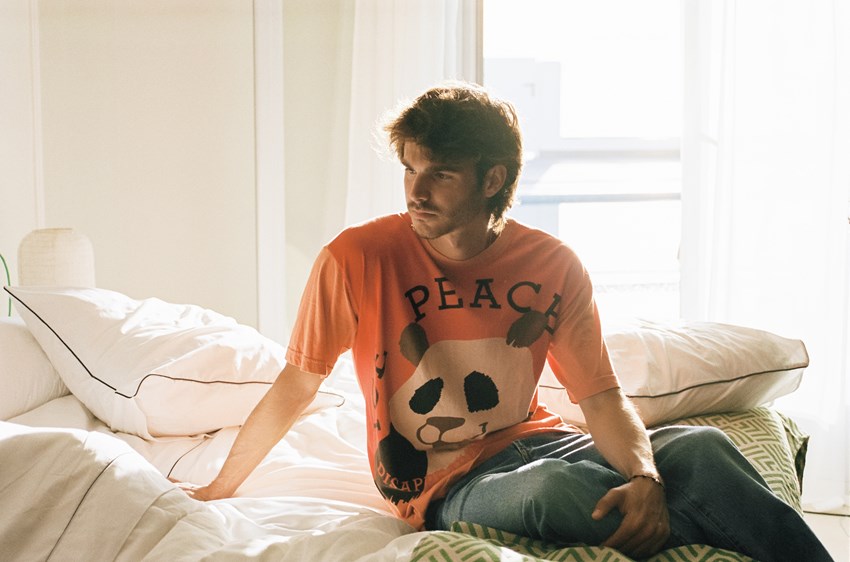 David's significance advances with the plot. As you have said you've learned, there's no minor role.
Yes, that's something that the producer Josep Cister Rubio told me. He was the person who introduced me to this world with La otra mirada: "There's no minor role; always remember that." And you can see it in David, who evolves both due to Margot and due to himself. Both end up making that agreement of being very truthful with each other, and this leads them to self-criticism. Little by little, a young man who is lost, who lacks prospects, who "lives nice and [SUBBING NOTE: changed 'a' to 'and' - is that right?] warm in the shit" – as Elísabet Benavent literally states in the original novel – and has no aspirations, goes on to have a more stable life and is calmer and more sure of himself, both with Margot and without. 
The story creates a kind of dynamic in a couple that we are not very used to in romantic comedies.
In the past, situations of inequality always occurred with the male character as the person with power, with an economic component: the superiority of the guy who is a billionaire. In this series, this is completely flipped. There is a tug of war in situations related to comfort, situations in which David feels much more comfortable than Margot and vice versa. However, the imbalance hasn't always got to do with money. That tug of war is what keeps alive a comedy that, by diverging from the stereotype, makes people empathise. It's a modern comedy that talks about situations that – though idealised as perfect – are sometimes uncomfortable. The first example that I can think of is sex. Making this rather comical and recognising that sometimes you're not comfortable is very well suited to what today's comedy is. 
Have you read anything by Elísabet Benavent before?
I'd seen part of Valeria, the series also based on her work, but I'd never read anything by her. When I received the project, I quickly looked for the book. The script has a character arc, a very good basis, but you get a clearer picture of the background from the novel. The same thing happened to me when I did La Fortuna. 
Several of your latest successes, "Killer Book Club", "La Fortuna" and "A Perfect Story", for instance, are adaptations of novels. Is there anything you've read lately that you'd like to star in on the screen?
Right now, I'm reading My Year of Rest and Relaxation by Ottessa Moshfegh. The protagonist is a woman, but it would be a very interesting story to adapt. She's fed up with everything and decides to spend all of 2000 in her Manhattan flat watching films and sleeping with medication.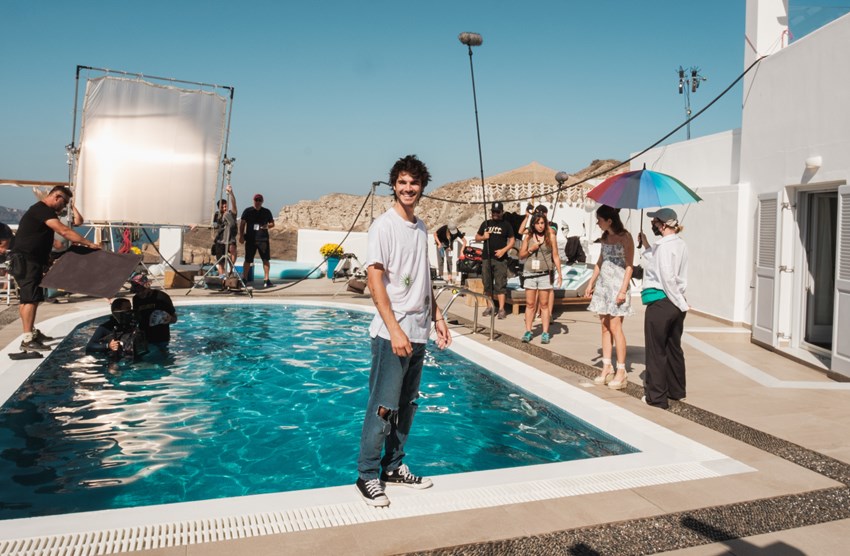 In "La Fortuna", which earned you nominations for Best Male Performance in the Forqué Awards in 2021 and the Iris Awards in 2022, you worked with Alejandro Amenábar, one of the Spanish directors best known internationally.
Since I've known that I wanted to be an actor, I've also wanted to work abroad. I always think of directors such as Tarantino or Guy Ritchie, who is one of my favourites. But I was recently presented with the opportunity and I was aware that I've not been in this world long and that I have little experience. Right now, Spain's industry is doing very well, and the cinema and the platforms allow all the productions to be exported to other countries. Working in Spain allows me to focus on interpretation and not be so aware of the language. The time will come for me to leave my comfort zone and – having more confidence in how I act and in the languages – to head out and try my luck. Right now, it's right for me to stay here, support the industry and export it abroad. 
Do you distinguish between series and film?
Well, I still go to the cinema every week and I'll never stop doing it. It's another experience. But, it's true that platforms allow the comfort of consuming content whenever and wherever you want, with a very extensive variety of products to choose from on any platform, and a lot's been done to ensure that series from one country can be seen in many others.
You've done romantic comedy in "A Perfect Story", and drama in "Madres. Amor y vida", adventures in "La Fortuna", thriller in "Paraíso"... which genre do you feel most comfortable in?
There are things that I like in all the genres. I've liked romantic comedy, and I have to say that I thought it would be an easier job, but it demands a lot of you. A closer atmosphere is created among colleagues and I really like that. In the slasher genre, which I did in Killer Book Club, I enjoyed the bad side of the character. My role in Paraíso also had a dark side. From La Fortuna, I liked playing someone who is more normal, more straitlaced, who gradually frees himself as the series progresses… I enjoy everything, and since there is no minor role, none that is less important or a favourite, you have to look at what you like most about each one, enjoy them and lay the little bricks that will gradually build your facet as an actor. 
Just as "Valeria" had several seasons, is there any possibility that "A Perfect Story" will continue developing?
I don't know, the possibility surely exists if Elísabet Benavent writes a second part. But it's also nice sometimes for a story to begin and to end. In some cases, it's stretching things too far and dragging down the story a little. It's been a good product, people have liked it, especially the ones who have read the book. 
Are you already involved in a new project?
I'm not shooting yet. I'm taking it easy; we want to take our time doing things slowly because this is a long-distance race. I've just started and I want to do it right.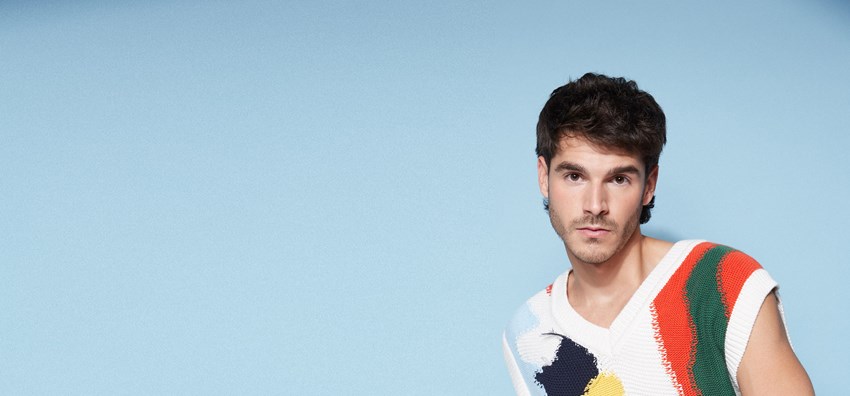 Before being known for acting, you were known on social networks. You've been on Forbes' list of the most important Spanish influencers. Are both careers compatible or not any more?
They are two lines that initially were confrontational, because I could be criticised for being intrusive [SUBBING NOTE: does he mean 'criticised for intruding'?], as I came to acting from the world of influencers, and it's also a bit of a rebound [Subbing note: not sure this bit in red makes sense]. For me, it was important to settle myself and to show that I'm also good as an actor, despite posting advertising on Instagram. I've been focusing more on acting, which demands more from me because I feel that I can develop myself more there. I am much more careful with the brands I work with. I don't constantly create content, and I think that the networks can help me to establish myself as an actor. 
Being an influencer has become the dream of many young people today. Is there a misconception of what it represents?
You always see the good part: travelling, eating... But you see the big names on the networks – especially streaming, which is what is working most now – and they end up sacrificing their own lives, because they live exclusively for it. Above all, you need to know that you might work very hard and not make it, because there's no magic formula. You can invest in a set-up and a good camera but then your content isn't interesting to anyone. Many of us have had a bit of a rebound [SUBBING note: again, not sure what he means really – could just delete first part of sentence so it starts 'Very few people who have tried it have made it.'], but very few people who have tried it have made it. 
When did you realise that people recognised you?
It started with social networks. About eight years ago, I went out for a walk that I really like in Salamanca, from Puerta Zamora, through the Plaza Mayor and the Rúa (Mayor) to Casa Lis, opposite the river (Tormes). I was sitting there, and suddenly a girl came up to me from behind and said: "Excuse me, are you Álvaro? Can I take a selfie with you?" I was very surprised... There is one audience that comes from social networks and another from acting. With A Different View or La Fortuna comes a broader and larger audience. With each project, you are capturing an audience. For me, it's all good, after all, I owe myself to this... 
Margot and David have made the public very envious this summer with these stunning locations in Greece. Of all the places you've worked in, which one has been your best discovery?
There were very good locations in La Fortuna, but this has taken the cake. Starting a job by going to Greece for three weeks and shooting in Athens, Mykonos and Santorini has been brutal [subbing note: he's really saying how great it is – maybe just needs an exclamation mark or something else to make it clearer?]. I'll be eternally grateful for having participated in this project. 
Fly to Athens all year round and to Mykonos and Santorini in the summer for only 20,000 Avios (return trip).