Glamping: natural luxury
The popularity of glamping has continued to grow in recent years, as shown by the 4.5 million Instagram posts tagged with this term. This mode of travel offers an experience where the best of traditional camping in the midst of nature is combined with the amenities of a luxury hotel. In fact, the term glamping emerged in the late 19th century to define the 'glamorous campgrounds' that the British upper classes built in various parts of Africa in an effort to follow in the footsteps of explorers such as David Livingstone as comfortably as possible. Today, it has become a versatile option that's perfect for romantic getaways, trips with children and moments for reconnecting with nature. Here are some of Europe's most impressive glamping grounds.
The lovely natural environment of the northern Iberian Peninsula makes northern Spain the perfect destination for glampers. A great example is Kampaoh Bayona Playa, located in the centre of the Rías Baixas, less than a half-hour's drive from the city of Vigo. The most special thing about this campground is that it is located right on the coast, which makes it a suitable place both for those who want to relax in the sun and those who love water sports, including children, who can enjoy a zipline in the children's playground or slides in the pool. Its tents can accommodate two to four people and are very well equipped, with beds with memory foam mattress, indoor and outdoor lighting, power plugs, kitchenware, beach towels and more.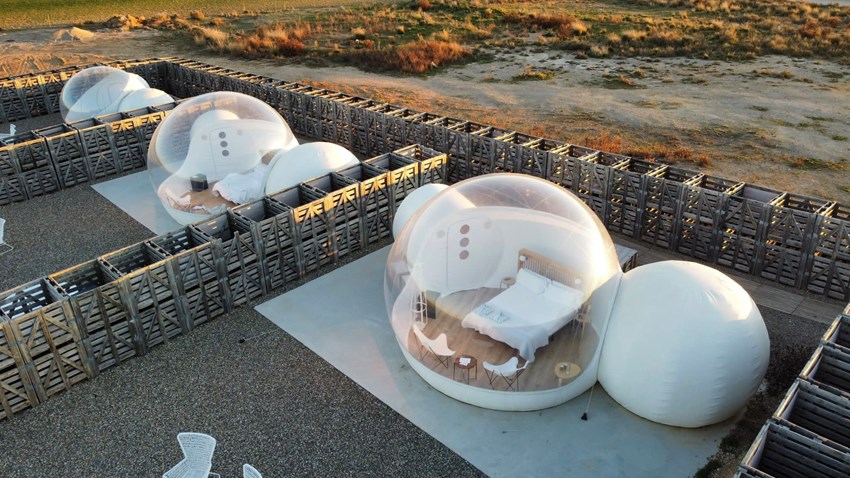 Located at the entrance of the Bardenas Reales Natural Park (declared a Biosphere Reserve in 2000) and very close to Tudela, Navarre, is Aire de Bardenas, a stunning setting for getting away from the day-to-day noise in the midst of a majestic semi-desert landscape. With an architectural design that is sensitively integrated into the environment (which has earned it numerous international accolades) and a highly attentive, award-winning service, Aire offers eight different types of rooms from which guests can enjoy the area's rugged nature without sacrificing any luxuries. Whether you choose a Bubble suite, from which you can gaze at the starry sky of one of Europe's least light-polluted locations, or a Cube with a View, which overlooks the beautiful lunar landscapes of Bardenas Reales, this is the perfect place to begin to discover a legendary Natural Park, famous for its hiking trails, mountain bike itineraries and motorcycle paths. As a final treat, the hotel's gastronomic offering – based on local designation of origin vegetables and zero-km ingredients – is excellent.
For those wishing to explore their more adventurous side, a curious glamping initiative arrives from France: Cabanes de France has set itself the goal of turning the great childhood dream of living in a treehouse into a reality. While it has accommodation across France, one that is ideal for romantic getaways is La Campalune, in the Provence-Alpes-Côte d'Azur region, about two hours from Marseille. This accommodation is amazing, with tents that float in the air, offering a 360° view of the forested landscape. The experience can be combined with outdoor activities in the surroundings, wellness sessions and access to a private spa, among many other options.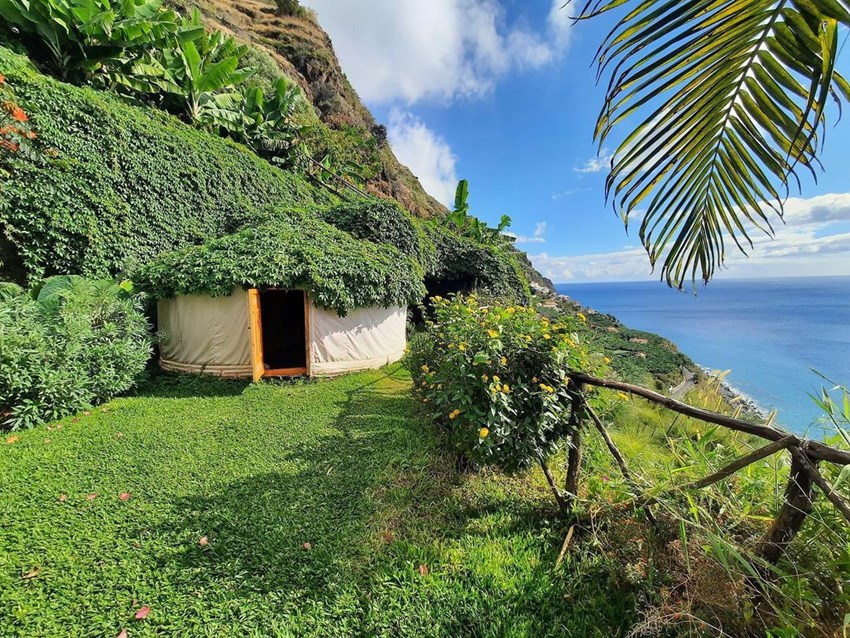 There is no better destination to finish our route than on the cliffs of Madeira, where the Canto das Fontes is located. Rising 100m above Anjos Beach, just a half-hour drive from Funchal, this glampground can pride itself on being a place where peaceful nature floods everything, accompanied by the sound of a 30m waterfall nearby. Its proximity to villages such as Punta do Sol (one of the sunniest and most charming villages on the island) means it offers all kinds of amenities, access to the beach and interesting tourist routes, while its organic farm provides guests with fresh seasonal fruits, vegetables and flowers. There are three different types of accommodation, from the spacious Mango Yurt to the charming Tipi Tents, perfectly integrated into Madeira's lush landscape.