Volcano Route in El Salvador
The Complejo Los Volcanes National Park, some 60 kilometres away from San Salvador, the country's capital, is home to the three most famous volcanoes of the 14 that make up the Cordillera Apaneca-Ilamatepec mountain range. This trio forms one of the country's most scenic routes, with summits that reach 2,381 metres, in addition to spectacular lakes such as Coatepeque and the sulfur lagoon of the Santa Ana volcano. If you're an adventure lover, you can travel to El Salvador from 42,500 Avios (return trip).
Recognised by Unesco on the World Heritage List in 2007, Volcano National Park is characterised by being one of El Salvador's most fertile landscapes, with plant species only present in this part of the country, and with mammal communities, such as coyotes, and birds, such as the black eagle, which make it a remarkable biological corridor. However, its most impressive treasures are the three young volcanoes that start the Cordillera Apaneca-Ilamatepec mountain range, recognised as a Biosphere Reserve and located in the country's western area.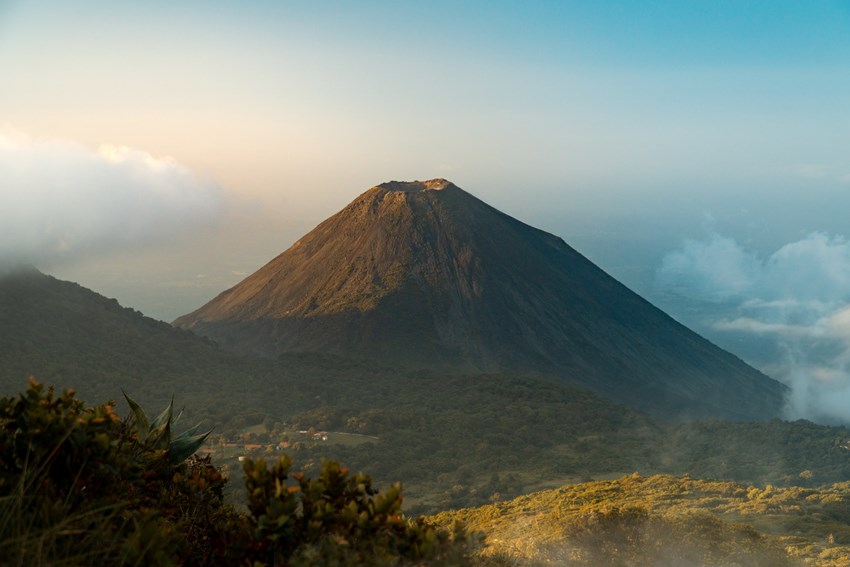 The first of the three volcanoes is Izalco, whose name comes from the Nahuatl language and means "place in the black sands". Nevertheless, it has historically been nicknamed "The Pacific Lighthouse", due to how easily it could be seen from the ocean, given the constant eruptions it has had over the years – the last of them in the middle of the past century. While it is true that it remains a well-studied volcano, since the 1960s, it has experienced significant decreases in temperature, which allows visitors to climb 1,950 metres to the top and walk through its crater with a guide. It is notable for being considered a very young volcano, since some historical sources place its appearance in 1770, making it an important destination for local communities. The route to the top of Izalco can be demanding, but it can usually be done in three to four hours of ascent and two hours of descent.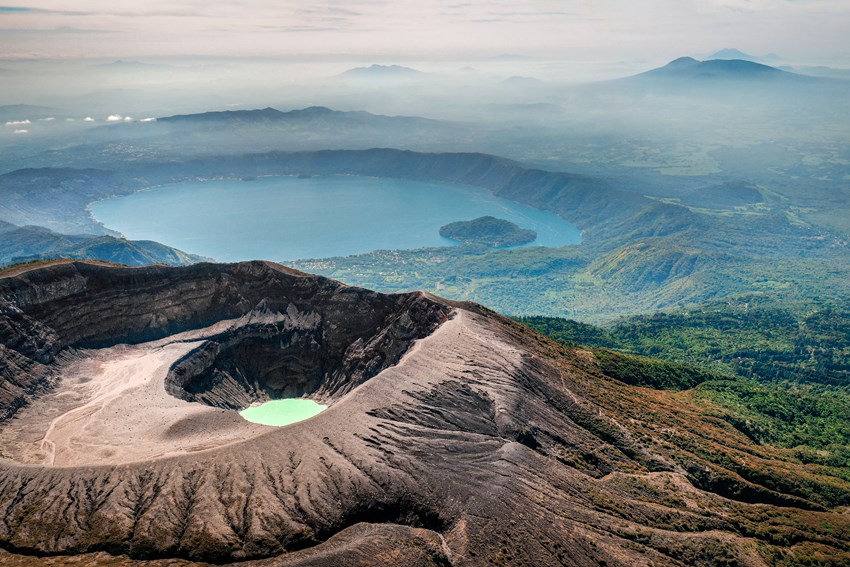 The second volcano in height is Cerro Verde, or Cuntetepeque in Nahuatl, which means "cloud hill". Rising 2,030 metres above sea level, it is 1.5 million years old, with its last eruption dating back 25,000 years. It crater has gradually eroded since then, and nowadays visitors will find a lush forest on it that they can also walk through. It is known as the Cerro Verde nature park and was founded in 1955 by Raúl Contreras within the so-called Volcano Complex in order to preserve the area's environmental riches. This initiative has boosted tourism activity in the region thanks to projects such as the "Mysterious Flowers" and "A Window to Nature" hiking trails and accommodation spaces and restaurants for those who wish to enjoy this place for several days.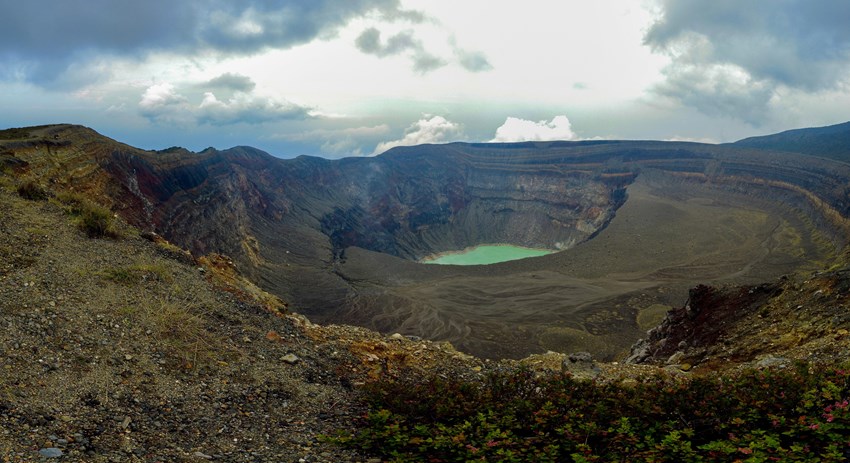 Lastly, is the Santa Ana volcano, known in Nahuatl as Ilamatepec or "old lady's hill". Its height of 2,381 metres above sea level dominates the landscape, and is El Salvador's third highest point and the country's highest volcano. Its last recorded activity was in 2005 and today it is the jewel in the park's crown thanks to the one-and-a-half hour route that leads to its summit, which can only be done with the park's guides and staff. From the volcano's highest point, you can enjoy fabulous views of Izalco, Lake Coatepeque and, most especially, the intense turquoise blue of the sulfur lake that has formed in its crater.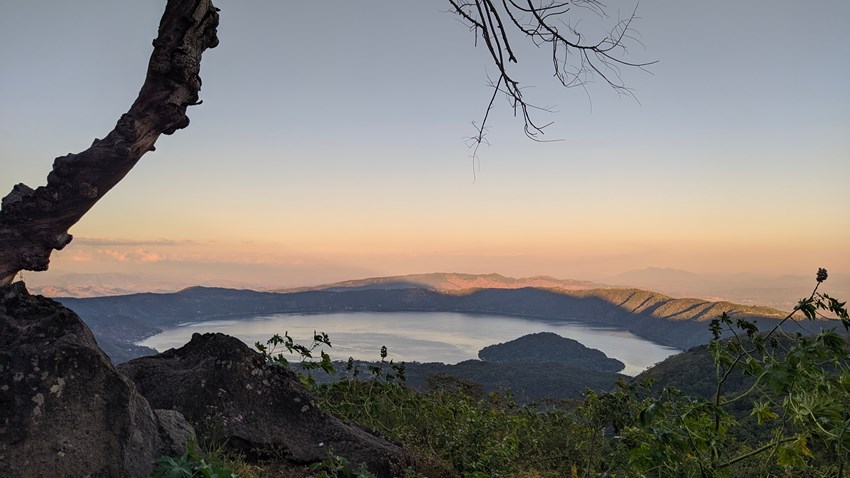 As we have already mentioned, Lake Coatepeque is located at the foot of Santa Ana, one of the most beautiful natural landscapes in El Salvador. The caldera that created the lake was formed after a series of volcanic explosions that occurred some 57,000 years ago. Today, it is a peaceful place where incredible natural diversity continues to emerge. The lake – known in Nahuatl as "snake hill" – is some 115 metres deep, has portions with hot springs in some parts, along with two islands, El Cerro and Los Manguitos. Around it is a variety of tourist offerings that include hotels and restaurants, in addition to spaces for sports such as sailing, diving and canoeing. What's more, Lake Coatepeque has a very significant peculiarity: according to the authorities, it is a cyclical but impossible to predict phenomenon in which the water changes colour and acquires a striking turquoise tone. This last occurred between 2017 and 2018.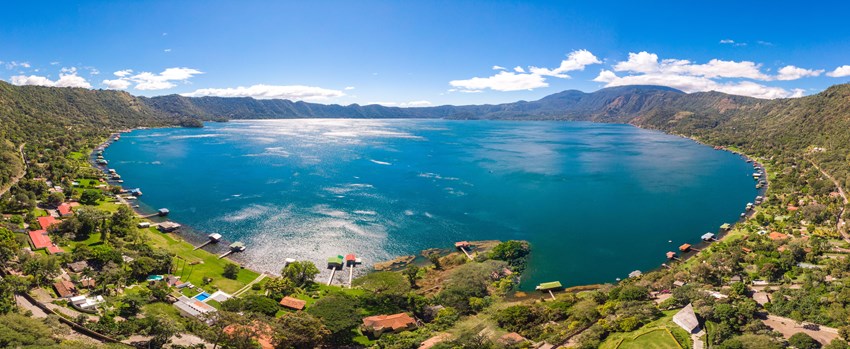 The ideal time to visit Volcano National Park begins in October, which opens its doors every day from eight in the morning to five in the afternoon. Access to the park is usually gained from the Cerro Verde sector, but it can also be visited from the San Blas sector, which offers mountain cabins for backpackers, or from the Los Andes sector. Given the heights reached on many of the routes, visitors are encouraged to bring some warm clothing, water and comfortable footwear, the essential tools for experiencing an unforgettable adventure among volcanoes.